Celiac Disease and Gluten-Free Diet Support
---
---
---
---
Follow / Share
FOLLOW US:
SHARE:

Popular Articles
How The Gluten Free Diet of Celebrities Could Harm Public Opinion
How The Gluten Free Diet of Celebrities Could Harm Public Opinion
Published 02/3/2014
Rating:
Celiac.com 02/03/2014 - It shouldn't be a surprise that there are celebrities who are jumping on the bandwagon of the "gluten-free" diet for no reason other than it seems to be a fashionable trend. I don't doubt that there are some celebrities who have actually found benefit and may sincerely suffer from Non-Celiac Gluten Intolerance, or worse, celiac disease. For the most part though, I am convinced they have decided to use the gluten-free diet as a method of avoiding pastas, breads, pizzas, and excess carbohydrates in order to lose weight.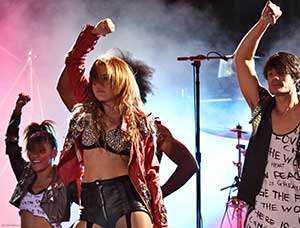 As we all know, adhering to a gluten-free diet is a mandatory thing for people with celiac disease or intolerance to gluten. It is a prescribed diet that helps those afflicted with the disease live a better quality of life, a healthier life, and therefore a more productive life.
Thanks to the gluten-free diet's following by celebrities such as Miley Cyrus, Gwyneth Paltrow, and Victoria Beckham, it has also been linked to people who use it to simply "lose weight" and "look good." In fact, Miss Cyrus recently used the gluten-free diet as a defense when she was questioned as to whether her ultra-slim figure was actually the ill-effects of a possible eating disorder such as anorexia or bulimia (After all, if looking so thin that people assume you have an eating disorder doesn't mean that the gluten-free diet works on weight loss, then what does? Just another example of how Americans tend to look at nutrition for its face-value instead of health. But I digress…).
There are definitely advantages to getting celebrity buy-in to the gluten-free-lifestyle. In fact, it is very possible that in a way, celebrities have shed light on the existence of such a thing called the "gluten-free diet" in a way the medical community just cannot. By association with a celebrity, the term "gluten-free" has made its way into common nomenclature found in groceries, restaurants, bakeries and even households.
So, how can this be a bad thing for people who medically NEED to follow a gluten-free diet?
Very simply, by a celebrity's choosing to promote the gluten-free diet as a weight-loss plan or weight maintenance program, they do harm by trivializing the importance of the lifestyle for so many Americans who suffer from celiac disease, Non-Celiac Gluten Intolerance, or even wheat allergies. When they promote it as a lifestyle CHOICE associated with the maintenance of their size zero frames, there is the great possibility that the general public will misinterpret the "diet" as a fad or trend much like Atkins, Sonoma, or any other diet-of-the-day. Therefore, the people you trust to prepare or serve your food (servers, chefs, bakers, or even friends and family) might be less apt to be overly cautious when preparing and serving your gluten-free meal.
There is an inherent danger in leading the general public to believe that this is a diet of CHOICE and not necessity for so many… up to 6%... of the American population. It's not that most people aren't trying to provide gluten-free meals to those of us who require them--it's just that there is a danger that our servers, chefs, and friends become less concerned with trying to meet the completely gluten-free standard that someone who medically needs the diet is aiming to achieve. After all, it is very unlikely that someone who follows the diet to be on-trend with Miley or Gwyneth is ever going to call someone out on using malt flavoring in a dessert, or the wheat-laden seasoning blend used in a sauce--because it doesn't affect them in the same way.
Then again…maybe they'll gain a pound overnight and they WILL call them out for using hidden gluten. We can only hope.
Celiac.com welcomes your comments below (registration is NOT required).

Get Email Alerts (More Info)
Article Options
Tracy Grabowski
Tracy Grabowski has been involved in marketing for over 13 years. As a wife and mom to three kids with Non-Celiac Gluten Intolerance and armed with certifications in the Gluten Free lifestyle from Texas A&M, as well as "GREAT Kitchens" and "DineAware" certifications, she recently developed WheatFreely.com to provide consulting and marketing assistance to non-gluten free hospitality industries who wish to safely and ethically establish themselves in this market. Tracy can be reached at: wheatfreely@live.com.
View all articles by Tracy Grabowski
In Celiac.com's Forum Now:
Vitamin deficiencies of vitamins D, C, and B12 and Calcium deficiency can all cause night sweats. (Perhaps the methyl form of B12 is needed for those with that MthFr gene.) Also, consistently high blood sugar levels can cause night sweats. As a type two diabetic, I find if my blood sugar...
It's unfair to make such a general statement about ER's and hospitals. Unfortunately, I've been to the ER several times and hospitalized three times in the past few years. The staff took me seriously when I told them I had celiac. Popsicles and drinks were checked for gluten, and a good laugh ...
Here is more information about testing family members. https://celiac.org/celiac-disease/understanding-celiac-disease-2/diagnosing-celiac-disease/screening/
Hello, I have been dealing with a mysterious rash for the past ten years that I am slowly beginning to think is DH. It comes and goes, is itchy as all get out and shows up in all the areas that DH appears (elbows, back, torso, knees and base of neck). It comes and goes over the years which...
I'm sorry I don't have much advice for you but I can relate in some ways. I've took generic Zoloft for about 10 years. When I was diagnosed celiac I worried about and researched my medications and am confident that they are safe for me. I have spent many years fighting depression and anxiety and ...