Restaurant: Gluten-Free Dining Experience
Restaurant: Gluten-Free Dining Experience
Celiac.com 07/24/2014 - People that have celiac disease know one of the main concerns is avoiding gluten when they have meals. Their second biggest concern is the possible co-mingling of ingredients that can contaminate otherwise gluten-free food! So how do you eat at restaurants when you have celiac and still have peace of mind?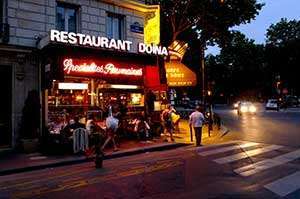 Here is how:
Before you are to go out to a restaurant call ahead and ask for the manager, find out if they do offer gluten-free meals that are carefully prepared for people with food allergy (If you are unable to call ahead go online and look the restaurant up to see if they offer a gluten-free menu or gluten-free meal selections, if need be email them). Also ask if the restaurant prepares gluten-free meals in a separate area, and if the restaurant uses different cooking utensils for gluten-free meal preparation.
When you arrive at the restaurant that you have confirmed has gluten-free meals, let your server know you have a "Gluten Allergy" (ok, you can use different terms, and this isn't correct, but it conveys necessity instead of trend) and must eat gluten-free. Ask for a gluten-free menu, if they did not offer one to you. If you feel comfortable ask to speak with the manager or chef at your table, so they know that you have a medical need for a gluten-free diet.
Let your favorite restaurants know that you want gluten-free meal selections and a gluten-free menu if they do not offer that yet. Do not be afraid to ask! Also, online there are cards you can print out and take to restaurants that you can give to server, manager or chefs to let them know that you are in need of a gluten-free diet.
Some restaurants are now getting trained for gluten-free food preparation through National Foundation for Celiac Awareness (NFCA) and Great Kitchens, so that all the staff is fully prepared and educated on how to handle safe preparation of meals for celiac and gluten intolerant individuals.
Talk about peace of mind; if a restaurant has had the gluten-free food training, know you are safe to eat gluten-free meals there!
Celiac.com welcomes your comments below (registration is NOT required).

Get Email Alerts (More Info)
Article Options
Melissa Reed
Melissa Bess Reed has been living gluten-free after diagnosed with celiac disease in 1998, and Hashimoto Thyroiditis in 2012. Both autoimmune disorders require a gluten-free diet. Melissa is a Chef in California where the farm to table is popular cuisine. She has professional membership in ACF Chefs. She is a Certified Medical Assistant via an Associate of Science Degree. She graduated top of her class Alpha Beta Kappa, enjoys volunteering and is an advocate for awareness. Melissa has a Harvard Medical School CME Certification for Celiac Disease Gluten-Free Diet Education and a current TAMU Certification for Celiac Disease. Holds a Great Kitchens NFCA Gluten-Free FOH Training Certificate. Gluten-free cookbook author, food blogger and recipe developer. Owns a Gluten-free business.
PHOTO CREDIT: Kelly Segre
View all articles by Melissa Reed
In Celiac.com's Forum Now:
Me too. I still get transient lower back pain occasionally when my bladder or colon is full. It goes away immediately on voiding. Regardless of anything other diseases you may have, being wheat free gives you relief so even if not Celiac you are Non Celiac Wheat Sensitive. There are over 200...
Here is a partial list of what I no longer suffer from as a result of not eating wheat. Some like the sleep apnea and gerd and back pain and addiction to alcohol were almost immediate. The foot pain is improved to just numbness sometimes. My long term depression went away when I added vitamin D 1...
Celiac Disease is damage to the nooks and crannies in our intestines leading to malnutrition, vitamin deficiencies with all the various symptoms that make it so hard to diagnose. Then you add years of the antacids, antibiotics, Tylenol, opioids, alcohol, etc., each with their own particular side ...
We use pure cherry juice with our snow cone machine. Makes for a nice dessert after dinner.
Hi Kurasz, How's it going? Any change for the amazingly better? Or slightly better? If not, hang in there, and keep praying! :)