Quick Gluten-Free Veggie Dip (Gluten-Free)
Quick Gluten-Free Veggie Dip (Gluten-Free)
Celiac.com 08/26/2014 - Entertaining for a celebration? Try this quick gluten-free dip to go with veggies, gluten-free bread or gluten-free crackers!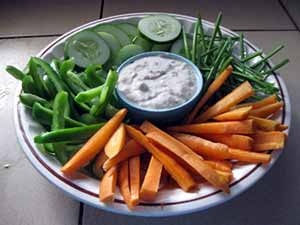 To make the quick gluten-free veggie dip you need:
1 large bell pepper, any color
1 cup frozen spinach, thawed and drained well
1 tablespoon fresh sweet red onion, chopped super fine
½ cup sour cream
1 cup cottage cheese, small curd
Red pepper flakes or cayenne pepper, to taste
1 teaspoon lemon juice
Pinch of salt and pepper, to taste
Kale, baby greens or mint and a platter
Your favorite dipping selections
Directions:
Wash Bell pepper, slice ¼ off top. Clean out seeds and rinse. Set aside.
Next in a blender add the spinach, red onion, sour cream and blend just until smooth.
Pour into a bowl. Mix in cottage cheese and lemon juice. Season the mixture with red pepper flakes or cayenne, then the salt and pepper. Put the dip into the bell pepper.
Place kale, baby greens or mint on platter. Put the bell pepper filled with dip in the center. Arrange dipping selections around bell pepper. Serve immediately and enjoy!
Celiac.com welcomes your comments below (registration is NOT required).

Get Email Alerts (More Info)
Article Options
Melissa Reed
Melissa Bess Reed has been living gluten-free after diagnosed with celiac disease in 1998, and Hashimoto Thyroiditis in 2012. Both autoimmune disorders require a gluten-free diet. Melissa is a Chef in California where the farm to table is popular cuisine. She has professional membership in ACF Chefs. She is a Certified Medical Assistant via an Associate of Science Degree. She graduated top of her class Alpha Beta Kappa, enjoys volunteering and is an advocate for awareness. Melissa has a Harvard Medical School CME Certification for Celiac Disease Gluten-Free Diet Education and a current TAMU Certification for Celiac Disease. Holds a Great Kitchens NFCA Gluten-Free FOH Training Certificate. Gluten-free cookbook author, food blogger and recipe developer. Owns a Gluten-free business.
PHOTO CREDIT: Kelly Segre
View all articles by Melissa Reed
In Celiac.com's Forum Now:
Yep. Initially I had the full panel. DGP was the only positive and it's the only one my doctor orders now.
Well I wish mine was dia. earlier, I got all kinds of other food issues, and other auto immune disease that came up as complications. If you deal with and change over now you can prevent a even more limited diet. I was running a bucket list thinking I was going to die before my dia. I had slight ...
So, do they just test your DGP like they just test my TTG?
The only test I have had done is the TTG because that's what I had done initially after taking matters into my own hands and going to my local health fair. Celiac is so common they do that screening at our health fair. My number was so high that my doctor didn't order other labs and went straight...
Celiac used to be considered a children's disease - so, by the old standards, you are a bit old to be diagnosed. We now know that Celiac can start at any age. I don't know if you are a male or a female, but untreated Celiac can lead to miscarriages and infertility. And all the other stuff...