Quick Gluten-Free Veggie Dip (Gluten-Free)
Quick Gluten-Free Veggie Dip (Gluten-Free)
Celiac.com 08/26/2014 - Entertaining for a celebration? Try this quick gluten-free dip to go with veggies, gluten-free bread or gluten-free crackers!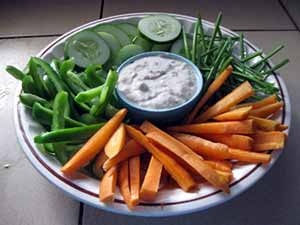 To make the quick gluten-free veggie dip you need:
1 large bell pepper, any color
1 cup frozen spinach, thawed and drained well
1 tablespoon fresh sweet red onion, chopped super fine
½ cup sour cream
1 cup cottage cheese, small curd
Red pepper flakes or cayenne pepper, to taste
1 teaspoon lemon juice
Pinch of salt and pepper, to taste
Kale, baby greens or mint and a platter
Your favorite dipping selections
Directions:
Wash Bell pepper, slice ¼ off top. Clean out seeds and rinse. Set aside.
Next in a blender add the spinach, red onion, sour cream and blend just until smooth.
Pour into a bowl. Mix in cottage cheese and lemon juice. Season the mixture with red pepper flakes or cayenne, then the salt and pepper. Put the dip into the bell pepper.
Place kale, baby greens or mint on platter. Put the bell pepper filled with dip in the center. Arrange dipping selections around bell pepper. Serve immediately and enjoy!
Celiac.com welcomes your comments below (registration is NOT required).

Get Email Alerts (More Info)
Article Options
Melissa Reed
Melissa Bess Reed has been living gluten-free after diagnosed with celiac disease in 1998, and Hashimoto Thyroiditis in 2012. Both autoimmune disorders require a gluten-free diet. Melissa is a Chef in California where the farm to table is popular cuisine. She has professional membership in ACF Chefs. She is a Certified Medical Assistant via an Associate of Science Degree. She graduated top of her class Alpha Beta Kappa, enjoys volunteering and is an advocate for awareness. Melissa has a Harvard Medical School CME Certification for Celiac Disease Gluten-Free Diet Education and a current TAMU Certification for Celiac Disease. Holds a Great Kitchens NFCA Gluten-Free FOH Training Certificate. Gluten-free cookbook author, food blogger and recipe developer. Owns a Gluten-free business.
PHOTO CREDIT: Kelly Segre
View all articles by Melissa Reed
In Celiac.com's Forum Now:
That is good news! No celiac disease! I would follow your doctor?s advice. Consider adding in more veggies and fruit into your diet. You can trial a gluten-free diet now that testing is over. That might help. Did they rule anything else out? I would encourage you to obtain all ...
Sherri, I am sorry that you are so uncomfortable. Perhaps it is your new gluten free diet. I saw that you mentioned that is is expensive which leads me to believe that you may have switched over to gluten free breads and other baked goods. These contain flours, gums, and additives that your bo...
Here's a list of things that get stuff moving for me. 400mg magnesium oxide per day, cooked zucchini (2 per day), 2 mile brisk walks, hot broth.
I am having this same issue. Bloating and stopped up. Had colonoscopy week ago with lab. Dx celiac disease and started gluten free diet. (Difficult and expensive) I have not had a regular/normal bowel movement. Doing miralax, fleets, etc. Finally called Dr as I'm so uncomfortable and feel li...
Ditto, ditto, ditto!!!!!