Fresh Salad with Havarti and Crisp Apple (Gluten-Free)
Fresh Salad with Havarti and Crisp Apple (Gluten-Free)
Celiac.com 09/04/2014 - Enjoy the combination of Havarti Cheese, Crisp Apple and Almonds in this fresh salad!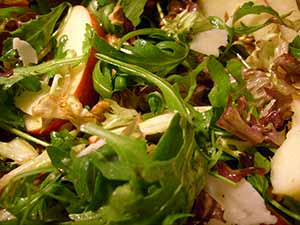 To make fresh Havarti and Apple salad for four you need:
8 oz. Havarti Cheese
5 Cups Organic Mixed Baby Greens
2 Cups Organic Crisp Apple, Gala or Granny Smith diced
Gluten Free Vinaigrette, chilled
Sea Salt and Ground Pepper, to taste
4 tbs. Almonds, sliced optional
Directions:
Place 4 salad plates with the forks on top of the stack, into the refrigerator to chill while you prepare the salad.
Rinse the organic mixed baby greens and pat dry with a paper towel or use a salad spinner.
In a large salad bowl arrange the mixed baby greens and layer diced apples on top.
Next, drizzle the mixed baby greens and organic diced apples with Gluten Free vinaigrette; mix well.
Then layer the Havarti and sliced almonds over the salad mixture. Place bowl of salad into refrigerator 5-10 minutes.
Season fresh salad to taste, serve immediately onto the chilled salad plates and enjoy with chilled salad forks!
Celiac.com welcomes your comments below (registration is NOT required).

Get Email Alerts (More Info)
Article Options
Melissa Reed
Melissa Bess Reed has been living gluten-free after diagnosed with celiac disease in 1998, and Hashimoto Thyroiditis in 2012. Both autoimmune disorders require a gluten-free diet. Melissa is a Chef in California where the farm to table is popular cuisine. She has professional membership in ACF Chefs. She is a Certified Medical Assistant via an Associate of Science Degree. She graduated top of her class Alpha Beta Kappa, enjoys volunteering and is an advocate for awareness. Melissa has a Harvard Medical School CME Certification for Celiac Disease Gluten-Free Diet Education and a current TAMU Certification for Celiac Disease. Holds a Great Kitchens NFCA Gluten-Free FOH Training Certificate. Gluten-free cookbook author, food blogger and recipe developer. Owns a Gluten-free business.
PHOTO CREDIT: Kelly Segre
View all articles by Melissa Reed
In Celiac.com's Forum Now:
That is a fascinating read, should be required reading for any scientist really. There are a lot of posts on here and elsehwhere from people who were told that they would / had 'grown out' of it. I had asthma from late childhood and was told similar. I 'grew out of it' 30 years later when I ...
Low levels of B12 can cause this. You may want to supplement with a sublingual B12 tablet.
Have your doctors done any vitamin and mineral panels on you? Sores like that can be caused by vitamin deficencies. The B vitamins in particular. You could try supplementing with a stress level B + C combo.
There is a question in my mind as to whether the canker sores are actually caused by your celiac disease. Sounds like the doctors pinned it on celiac disease as there was laboratory evidence proving you were a Celiac. And having canker sores is in fact one of the documented medical conditions ass...
Antibodies can remain in your system for months to over a year....or go away within two weeks. It sounds like you were advised to go gluten free and that could have caused your TTG to decrease. Does your GI know you had been gluten free? Some folks with DH have no intestinal or it can be...