As a person with an intolerance to wheat, barley, and other grains and products with gluten in them, I have sampled numerous vitamins and supplements over the years. One of the best I have ever taken is CeliAct. I am happy to say that this supplement has recently been reformulated and it is now better than ever.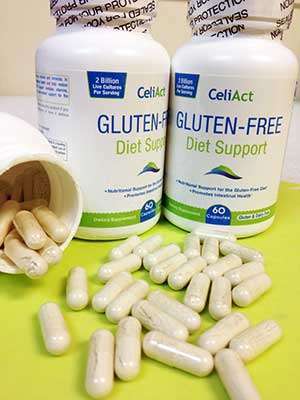 One of the biggest changes to CeliAct is the recommended dosage. The new serving size is 2 soft capsules a day compared to the former serving size of 6 large hard tablets taken two times a day. These old tablets were so big I had to cut them in half to take them - but that is no longer a problem because the new capsules are soft and very easy to swallow. This is a big improvement!
There are several other significant changes to this supplement in terms of the ingredients, the amount per serving, and the percent of Daily Value (%DV) including increases in Vitamin D, Biotin and Zinc, as well as the addition of Folate and Magnesium Oxide. Another benefit of this supplement is that it provides 2 billion live cultures per serving of Bacillus Coagulans for intestinal health.
If you have celiac disease and you plan on trying a supplement to help you feel better, I highly recommend CeliAct Gluten Free Diet Support.
For more information visit: www.Celiact.com