Authentic Foods Steve's Gluten-Free Bread Flour Blend
Authentic Foods Steve's Gluten-Free Bread Flour Blend
Finally there is a perfect all purpose gluten-free flour!
Celiac.com 10/30/2014 - I have always been a fan of Steve Rice and his Authentic Foods line of gluten-free products. Recently I had the opportunity to try out his new Steve's Gluten-Free Bread Flour Blend, and I must say that I'm very excited about this amazing new flour blend, and the many possibilities that if offers.
When Steve told me that he had been working for 20 years to perfect this mix, I knew that I was in for something very special, and my experiences with it were amazing.
In the past I have tried many products billed as all purpose gluten-free flour mixes, but none are quite like this one. The directions are straightforward, and I only needed my own yeast packet, sugar, egg, butter and oil to make the mix.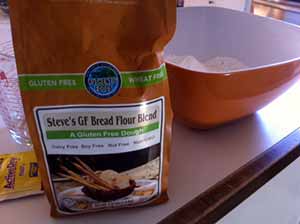 I new something magical was happening at the point where you first begin to mix everything together...see below: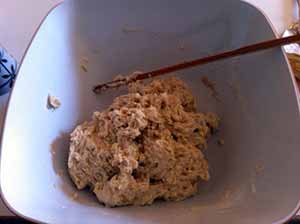 I know that Steve recommends using a mixer, but I don't have one. However, after mixing and kneading it for only a few minutes by hand it came together with the look and feel of a real gluten bread dough...it was very easy to work with, and in a very short time it looked like this:
I used the dough to make the outstanding pizza below, which had a spongy, delicate crust. When making it I found that I could easily pick up the dough and work with it to form the gluten-free pizza crust.
My wife used the remaining dough to make a cake, which came out light and fluffy, and it held together extremely well:
Be sure to give this great new product a try. I'm sure that you too will be blown away by how great it is, and how many things you will be able to make with it using Steve's many recipes offered on his Web site.
Celiac.com welcomes your comments below (registration is NOT required).

Get Email Alerts (More Info)
Article Options
Scott Adams
In 1994 I was diagnosed with celiac disease, which led me to create Celiac.com in 1995. I created this site for a single purpose: To help as many people as possible with celiac disease get diagnosed so they can begin to live happy, healthy gluten-free lives. Celiac.com was the first site on the Internet dedicated solely to celiac disease. In 1998 I founded The Gluten-Free Mall, Your Special Diet Superstore!, and I am the co-author of the book Cereal Killers, and founder and publisher of Journal of Gluten Sensitivity.
View all articles by Scott Adams
In Celiac.com's Forum Now:
Sure, you should consider getting tested for celiac disease. There is no test for Non-Celiac Gluten Intolerance or Sensivity. However, you have to be consuming gluten daily for at least 12 weeks as ALL celiac tests require you to be consuming gluten. Learn more about testing: http:/...
Welcome Isabel! It is hard having celiac disease, but after a while it does get easier. Just so you know, I am an adult, but I am a Girl Scout Leader, have a daughter who is 16 and one of my daughter?s friends was just diagnosed with celiac disease just three weeks ago! Social...
I have two suggestions. First try switching to mostly natural gluten free foods. It makes the diet much easier. Second, i know you said you know the consequences, but really think deeply. in some ways, gluten is poison to your intestines. it literally eats away at it! so next time you think about...
I?m in middle school and here is my story of celiacs. i was short all my life and had mild stomach aches. Finally, about a year and a half ago, my doctors realized it was celiacs. The blood tests came back positive for it, so i got the endoscopy. sure enough, i had celiacs. it is so hard for me f...
Hey I?m around the same age! I get it and feel the same way. I was diagnosed only over a year ago and my celiacs very hard to deal with at social events. But what ever you do, don?t cheat the diet! The consequences will come back. I?m here to chat if anyone needs support