Oregon Gluten-Free Travel: Where Gluten is the New Al Qaeda
Oregon Gluten-Free Travel: Where Gluten is the New Al Qaeda
Celiac.com 08/31/2015 - It is possible that Oregon could be one of the gluten-free friendliest places on Earth. I had never been there before, but after a road trip to Oregon this summer I will definitely be back.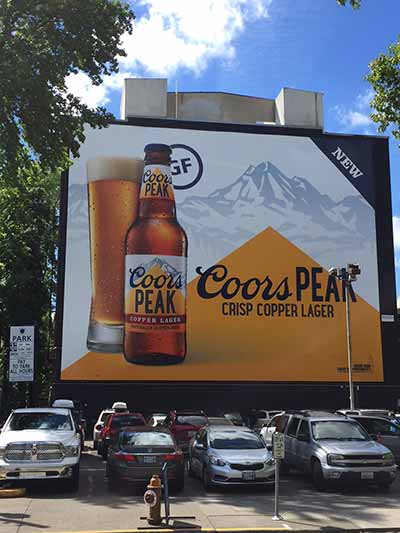 One interesting thing that I already knew about Oregon before my trip was that, for some reason, it is a hotbed for the test marketing of new gluten-free products. Many large corporations roll them out there first, before launching them in other states. These companies also pump a lot of marketing money into Oregon to promote these products—on a level that I've not seen in other states. Here is a picture that I took in downtown Portland of a huge billboard for Coors Peak Copper Lager. Not only can I not find this new gluten-free beer anywhere in the California Bay Area, but I also have never seen advertising done here on this scale for any gluten-free product.
Perhaps due to Oregon's history of being very progressive when it comes to food and beverage trends—for example the microbrewery and organic food movements took hold there very early on—it seems that the gluten-free food movement has also progressed there faster and is far more mature than many other places that I've been. This was very apparent to me when I first crossed the border and stopped at a Subway and found that they offered a gluten-free sub roll option, and the staff was well-trained in how to prepare my sandwich in a way that would minimize any cross-contamination risks.
Besides large corporate chain restaurants which offered unexpected gluten-free options, every local or family owned restaurant that I ate in also offered gluten-free options and/or a gluten-free menu. In fact, there is even a huge food truck culture in downtown Portland that is centered in parking lots near the China Town area, and many of these trucks advertise that they are either entirely gluten-free or have gluten-free options.
So you may be wondering where I came up with " Gluten is the New Al Qaeda" in the title of this article? While in Portland I visited their huge "Portland Saturday Market," which covers most of the waterfront in the downtown area on Saturdays and Sundays from March through Christmas. In one of the booths I found a vendor who was selling t-shirts and tote bags with this phrase on it, and since I happened to need a tote bag I picked one up. Looking back on this trip now I believe that this vendor's idea pretty much summed up my gluten-free experiences in Oregon—where those who are gluten-free will find many like minded people and therefore wont' have to waist much time explaining themselves when they order food—and a place where gluten is now being avoided by many Oregonians like most people in the world hope to avoid Al Qaeda!
Celiac.com welcomes your comments below (registration is NOT required).

Get Email Alerts (More Info)
Article Options
Scott Adams
In 1994 I was diagnosed with celiac disease, which led me to create Celiac.com in 1995. I created this site for a single purpose: To help as many people as possible with celiac disease get diagnosed so they can begin to live happy, healthy gluten-free lives. Celiac.com was the first site on the Internet dedicated solely to celiac disease. In 1998 I founded The Gluten-Free Mall, Your Special Diet Superstore!, and I am the co-author of the book Cereal Killers, and founder and publisher of Journal of Gluten Sensitivity.
View all articles by Scott Adams
In Celiac.com's Forum Now:
Your numbers should not be going up at all. You are getting gluten somewhere. Do you eat out? Have you read the Newbie 101 at the top of the coping section? That will help you to ferret out how you may be getting glutened. Do you have a gluten free household or is it a shared house...
I?m 62 and have just now been tested for Celiac. My Titer was negative, I have zero IGa and too much IGg (16) which is an indicator of intolerance at the very least and may indicate the need for another endoscopy. He also tested for EPI (exocrine pancreatic insufficiency) which was negative. ...
Nice to know that Disney makes an effort to take care of people with allergies or special diets (like gluten free!): https://publicaffairs.disneyland.com/walt-disney-parks-resorts-receives-honors-allergy-friendly-fare/
Wow, I also had pyloric stenosis that was misdiagnosed for some weeks as an infant (and almost died from it). I also have Raynauld?s and I started following celiac diet, finding an immediate improvement of my symptoms. I thought I was the only one that had all 3 of these diagnoses. Interesting.
If you are lucky enough to travel in the Spanish-speaking world, just about anywhere you go, you will very likely run into a some version of chicken and rice, or 'Arroz con Pollo' as it appears on countless menus. This Cuban-style version relies on annatto oil to give it a red color. You can ...