Cinnamon Rolls by Karen Robertson
Cinnamon Rolls by Karen Robertson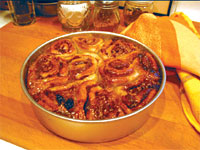 Cinnamon rolls are an occasional indulgence that we all deserve. In our home we dont make them often so they are very special. It is challenging to recreate the exact texture of a cinnamon roll but these come close.
Substitutions:
I like to substitute ½ the flour in the recipe with light buckwheat flour for an even better texture. The first time you make cinnamon rolls follow the recipe exactly and then begin to make your own substitutions. This way you will know what the dough is supposed to feel like before you begin to customize.
Though I havent tried it, I believe that a dairy-free version would include substituting the dry milk powder with ground almonds in the Workable Wonder Dough recipe. Water could substitute for the milk in the Cinnamon Roll recipe (butter could be substituted with a non-dairy margarine).
Tips:
Whenever you make gluten-free bread or dough, take humidity into consideration. Always hold back a little of the water until you can see how wet the dough will be. Gluten-free flour absorbs moisture from the air and too much water can ruin a recipe. The dough needs to be firm enough to roll out with a rolling pin without sticking.
It is important to tightly pack the cinnamon rolls into the pan, otherwise, they may become too firm.
A warm towel placed over the pan during the rise phase is important. A good way to warm a towel is to place a wet, cotton dishtowel into the microwave for 40 seconds. Place the towel over the pan of cinnamon rolls and then cover with another towel or a piece of foil. This will allow for a nice rise.
Good luck.
Karen Robertson
---
Cinnamon Rolls
Makes nine 2-inch rolls
Every now and then you must treat yourself to a cinnamon roll! Packing them tightly into a baking dish helps to keep them moist throughout. Adapted from Wendy Warks Living Healthy with Celiac Disease (An Affect, 1998).
1 recipe Workable Wonder Dough
3 tablespoons butter, melted
2/3 cup brown sugar
3 tablespoons ground cinnamon
½ cup raisins
1 1/3 cups confectioners sugar
3-4 tablespoons milk
Butter an 8-inch round cake pan.
Roll out dough to a 9 x 18-inch rectangle, approximately ½-inch in thickness. Brush dough with 3 tablespoons melted butter. Sprinkle sugar, cinnamon, and raisins evenly over the dough. Beginning at one of the 9-inch sides, roll dough into a log shape. Using a sharp, clean knife, cut log into 9 equal pieces. Arrange rolls in prepared pan, packing tightly together and keeping the swirl side up. Cover with a warm, wet towel and let rise one hour. Bake at 400F. for 15-20 minutes. While cinnamon rolls are baking, whisk together confectioners sugar and milk in a small bowl. Drizzle mixture over hot, baked cinnamon rolls.
Celiac.com welcomes your comments below (registration is NOT required).

Get Email Alerts (More Info)
Article Options
Scott Adams
In 1994 I was diagnosed with celiac disease, which led me to create Celiac.com in 1995. I created this site for a single purpose: To help as many people as possible with celiac disease get diagnosed so they can begin to live happy, healthy gluten-free lives. Celiac.com was the first site on the Internet dedicated solely to celiac disease. In 1998 I founded The Gluten-Free Mall, Your Special Diet Superstore!, and I am the co-author of the book Cereal Killers, and founder and publisher of Journal of Gluten Sensitivity.
View all articles by Scott Adams
In Celiac.com's Forum Now:
Ennis_Tx, I am just now seeing your blog post. Look into Vitamin K and Boron both are important for Calcium levels. Vitamin D gets all the press but bone density has shown to improve with Vitamin K levels. Here is a quick google search about born from the Livestrong site. ...
Yes I'd love that! How do I send you my email address so the whole world Doesn't have it. Not that it really matters no one knows me lol.
i luv tea and coffee!! if we lived close together the 3 of us would make great friends
hi yes yes n yes! its kinda silly but like u said there?s nothing to focus on! are u on east coast?? im always looking for new friends! but anyway its like im in a funk! i had a heart procedure in may then i was diagnosed w celiacs along w my father! so my fam is supportive as well as my physical...
This year I have to go easy. So I'm cooking a turkey thigh (assuming they sell those at the store), zucchini cooked with olive oil and salt, and homemade gravy. Etalia artisan style bread (boule), and pumpkin pie. Will space these things throughout the day as I can only eat small amounts at a tim...