Lois Parker
Avid baker before realized exquisitely gluten sensitive. Now working to help people bring back the bliss to their eating through baking, teaching, writing and campaigning.
Articles by this Author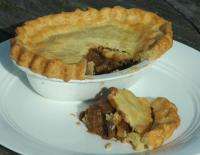 The finished venison, ale and mushroom pie.
I based this recipe on one from UKTV Food. This pie has a crisp golden pastry and succulent rich filling. Pureed beans and onion thicken the sauce. If you don't want to puree them just add them to the rest of the ingredients at the start of the slow cooking stage.