Connor Burns
I found out I have celiac in April 2010 and have incorporated celiac into my Senior Project for High School. My project is to find out the gluten-free restaurants in Newport, RI, so I hope to post something on this website about my project.
Articles by this Author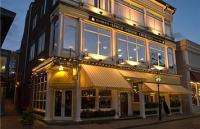 The Brick Alley Pub in Newport, RI
A list of all the gluten-free restaurants and bakeries in Newport, RI. If you have ever traveled to Newport, RI then you know there are plenty of great restaurants to choose from. But if you have celiac disease or a gluten-intolerance then you know that dining out in an unfamiliar city is very difficult. Luckily, Newport has many gluten-free friendly restaurants that can easily be found if you know about them.