Do You Have Celiac Disease and Have Questions Or Need Help?
Join Celiac.com's forum / message board and get your questions answered! Our forum has nearly 1 MILLION POSTS, and over 62,000 MEMBERS just waiting to help you with any questions about celiac disease and the gluten-free diet. We'll see you there!
Follow / Share
FOLLOW US:
---
SHARE:

Popular Articles
Amy O'Connell
Amy O'Connell is a medical doctor and researcher who was diagnosed with celiac disease in 2003. She began writing professionally in 2010. Dr. O'Connell is working toward becoming a pediatric allergist/immunologist. When not working, Amy enjoys baking and trying out new gluten free recipes. You can check out Dr. O'Connell's blog "Dr. Gluten Free" at
http://drglutenfree.blogspot.com
.
Articles by this Author
Published 12/2/2011
Rating:



Photo: CC--Newbirth35
Some rumors have been circulating in the health foods community that gluten-free eating can encourage weight loss. Unfortunately, this theory is completely unfounded. Wendy Marcason, a registered dietician, published an article in the Journal of the American Dietetic Association in November that reviews some of the theories and controversy surrounding this issue. The article concludes that there is no scientific evidence to support a connection between eating gluten-free and losing weight.
Published 10/13/2011
Rating: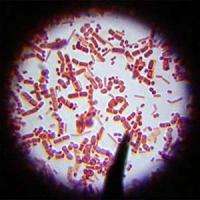 Photo: CC- kaibara87
A discussion of the article "Identification of rothia bacteria as gluten-degrading natural colonizers of the upper gastro-intestinal tract," and its implications for the development of celiac disease.