Katie Zapotoczny
I am a health-conscious wife and mother of two. I am independent consultant with a direct sales company called Verefina, which makes natural personal care products (katiez.verefina.net). I also write about various health topics on my blog, The Cleaner, Greener Home (cleanergreenerhome.com).
Articles by this Author
Published 04/8/2014

Unrated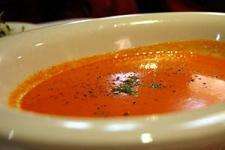 Photo: CC--stu_spivack
This tomato soup is loaded with veggies and is delicious sprinkled with Parmesan cheese.
Published 12/24/2013

Unrated




Photo: CC--rusvaplauke
Heat the butter in a large pot over medium heat. Stir in the cumin, onions, garlic, and chili powder (if using) and cook 2-3 minutes. Add the tomatoes, and bring to a simmer.