Melanie Weir
While studying abroad in England in 2001, I was introduced to Celiac Disease. I tried out the gluten-free diet, but was unsuccessful. In 2002, without knowing about my previous attempt at eliminating gluten from my diet, I was encouraged by a nutritionist to try out a gluten free diet. After keeping a food journal for a month, she noticed that my stomach problems and emergency room visits increased the more I consumed foods containing gluten. With the help of my nutritionist, I cut gluten out of my diet for 4 weeks and at the end of that 4 weeks, I was amazed. My itchy rash had gone away and I didn't get get sick after every meal. It was at that moment that I began researching celiac disease and the gluten-free diet. After almost 6 years of research and analysis of celiac disease & the gluten-free diet, I have opened a gluten-free store, "Gluten Free Specialty Market" in Downtown Sacramento, California. The goal is to provide both gluten-free products and gluten-free resources to the local community. With both a BA and AM degree in Psychology, my goal is to provide information about both the physical and psychological effects of celiac disease and gluten sensitivities.
Articles by this Author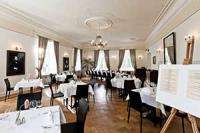 Photo: CC - Unique Hotels Group
Eating out gluten-free is not as easy as it seems. If you Google "gluten-free restaurants," your bound to find a selection of gluten-free menus and gluten-free yelp reviews. However, a global definition for gluten-free does not exist in the restaurant world.
Photo: CC - liberalmind1012
Over the last decade, many companies are adding labels to their products like: "gluten-free," "low gluten," "no gluten," "no gluten ingredients used," "naturally gluten-free" and "celiac friendly." To many celiacs and individuals with gluten intolerance, the idea of companies labeling products without gluten is refreshing. To experts on celiac disease and gluten intolerance, the gluten labeling currently happening in the United States is frightening.