Celiac Disease and Gluten-Free Diet Support
---
---
---
---
Follow / Share
FOLLOW US:
SHARE:

Popular Articles
Happy 40th Birthday Earth Day!
Today is the 40th anniversary of Earth Day. What began 40 years ago today, is now a global movement, celebrated by people worldwide. The grind of the day-to-day routine can make it easy for many of us to get caught up with our own problems and not see the big picture, especially if you suffer from dietary ailments, like celiac disease. This Earth Day, make yourself feel good by making a difference to our Planet. You don't have to necessarily plant a tree, or clean a beach (although that would be nice) to participate in Earth Day. To show your appreciation to the Earth, there are a variety of ways to contribute, even if it's simply making it a point to recycle more. So no matter how big or small, everyone can get involved in Earth Day 2010, even celiacs.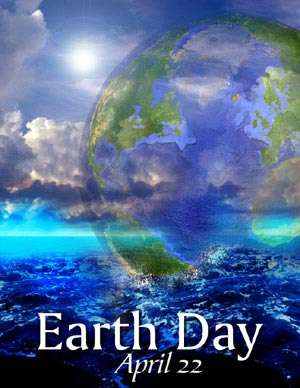 How does Earth Day impact celiac disease, you ask. Earth Day affects every living thing on our planet. Even if you have celiac, you still need the planet to exist, right? Founded by U.S. Senator Gaylord Nelson on April 22, 1970, as an environmental 'teach-in', Earth Day is now acknowledged and celebrated by almost every Country in the World on April 22nd. Earth Day is celebrated by many as a week long event and there are many wonderful Earth Day events open to the public, so there is likely one in your area. To find an Earth Day event in your neighborhood check out the link below:
*Celiac Fact #1:
Did you know that you already contribute to the environment by not eating gluten? According to a new study published in the Environmental Science & Technology, it takes 1,400 gallons of water to produce $1.00 worth of consumer grains. So by not eating wheat, rye or barley, you are actually saving billions of gallons of water every year. For a list of 100 other ways you can save water, check out the site below:
Celiac Fact #2:
Finding gluten free food can be very costly. Not only is it expensive to purchase gluten-free food, but it is often difficult to find gluten-free food. Sometimes, I find myself driving to 3 or 4 different stores just to find what I need. Gas is not cheap and driving around for gluten-free food ends up being very costly. Cut back on toxic emissions by driving less. Some ways to avoid driving more than necessary are:
Make a list in advance. That way you don't end up driving all over, and you don't forget anything that will have you driving back to the store unnecessarily.
Shop online. When you shop online you will spend less time driving from store to store, so you will use less gas, and you will have more time to do things other than trying to find gluten-free food, like taking your kids to an Earth Day event.
Buy local produce. Try buying your produce from local farm markets, and health food stores that carry local produce. Buying local is good for the environment, and actually for people too.

Another easy thing you can do for the Earth is to try to use less electricity. One way to save on electricity is to cook less. Here is one gluten-free recipe that requires very little cooking. In fact, some variations don't require any cooking at all. The following recipe is a delicious appetizer or dish for any Earth Day event, or as an everyday addition to your repertoire. These spring rolls are easy, healthy, gluten-free and my personal favorite all time quick meal. The recipe can be varied and you can add your favorite foods to make a delicious roll that will have you coming back for more
Gluten-Free Spring Rolls
INGREDIENTS:
Prep Time: 40 minutes
Cook Time: 2 minutes
Total Time: 42 minutes
1 package large dried rice wrappers/paper ( make sure the ingredients do not list wheat)
1 cup cooked chicken or turkey, shrimp, baked tofu, sliced or cut into bite-size pieces, and tossed in 2-3 Tbsp. gluten-free soy sauce( I use San J organic soy sauce)
1 cup fresh coriander leaves
1 cup fresh sweet basil, roughly chopped if leaves are large
1/2 large cucumber, sliced into matchstick-like pieces
1 carrot, grated
1 cup fresh bean sprouts
*Tip:
I like to wash and peel my carrots and cucumber. I also cut out the seeds of my cucumber-it seems to be easier for me to digest. Gluten Free soy sauce and rice papers can be found at most Asian markets.
1.Set rice wrappers aside.
2.(Optional. You can also use soy sauce as a dip) Place all ingredients in a large mixing bowl and drizzle the soy sauce over. Toss to mix.
3.Fill a large bowl with hot water (but not boiling, as you'll be dipping your fingers into it). Start by submerging one wrapper into the water. It should soften after 30 seconds.
4.Remove the wrapper and place on a clean, flat surface( I use a plate).
5.Place a heaping tablespoon of roll ingredients toward the bottom of the wrapper. Spread out the ingredients horizontally (in the shape of a fresh roll).
6.Fold the sides of the wrapper over the ingredients, then bring up the bottom. Tuck the bottom around the ingredients and roll to the top of the wrapper.
7.To secure the roll, wet it with a little water on your fingers and press (like sealing an envelope).
8.To serve, place your platter or bowl of rolls on the table along with the dipping sauce. Eat with your fingers and lots of napkins. (If you plan on sharing your rolls, place them on a plate and cover them, and keep them in the refrigerator until you are ready to serve them.
*Ingredient Variations:
Avocado, lettuce, bell peppers...the sky's the limit. Add your favorite salad ingredients and see what you think. You can also use gluten-free sweet & sour sauce, gluten-free peanut sauce, or gluten free tamari sauce as a dip.
How am I contributing to Earth Day this year? I will be contributing to Earth Day by making everyday Earth Day. I pledge to recycle everything I can, try to take baths instead of showers whenever possible, and I will make sure to continue to turn off lights when not in a room. I also plan to take my doggies to the beach this weekend to celebrate. This time I will bring extra garbage bags and some plastic gloves and I will be cleaning the beach as we walk, something I can do on every beach visit. I will also contribute to Earth Day 2010 by continuing to share valuable information with others. Communities and communication is the key to a better world. Let's all share what we learn and make this world a better place to live.
Happy Earth Day 2010!
As always, Celiac.com welcomes your comments (see below).

Get Email Alerts (More Info)
Destiny Stone
I diagnosed myself for gluten intolerance after a lifetime of bizarre, seemingly unrelated afflictions. If my doctors had their way, I would have already undergone neck surgery, still be on 3 different inhalers for asthma, be vomiting daily and having chronic panic attacks. However, since eliminating gluten from my diet in May 2009, I no longer suffer from any of those things. Even with the proof in the pudding (or gluten) my doctors now want me to ingest gluten to test for celiac-no can do.
Comments
In Celiac.com's Forum Now:
Hey guys! I have been suffering from NCGS for almost a year, and have recently been diagnosed with IBS. Although I was finally getting used to the gluten free routine, this has been really hard to get used to. I'm currently having a major flare, so I'm off pretty much all fodmaps (al...
Great advice everyone! So the envirokids gorillla munch by natures path is safe?. As for cinnamon Chex is that ok too?
Alright, so I'm 3 months into being gluten free, And in terms of how I feel, the "best fit" line on the graph would be a very slow incline, which is good, but day to day, I would mark as all over the place. I don't understand. I pretty much do the same things every day, and eat the same thin...
Ha, Ha!!!!!! If I wouldn't get in trouble for practicing without a license, I would! I get it because that is what they did to me for years. I never had acid reflux but had enough other symptoms that all screamed Celiac but no.........they told me that my severe stomach pain might be a...
Here's a link that discusses Mast Cell Activation Syndrome (histamine intolerance) and recommended tests. http://www.thepatientceliac.com/tag/mast-cell-activation-syndrome/ This article explains how POTS is related to MCAS. https://www.ncbi.nlm.nih.gov/pmc/articles/PMC3545645/#!po...