Gluten-Free Labeling and the FDA: We Are Watching (and so is Monty)
On May 4th, members of the national celiac and gluten intolerance community met in Washington, D.C., to urge the Food and Drug Administration to finalize gluten-free labeling rules, and to ask Congress to encourage and track FDA's progress. Our national community was remarkably successful in using its grass roots strength to organize together and participate in the democratic process as policy advocates.
The May 4th event was led by a broad-based coalition, including nonprofit organizations, celiac disease centers and gluten-free food manufacturers. Jules Shepard, a gluten-free cookbook author and baker, and John Forberger, a gluten-free athlete and blogger, met through Twitter, came up with the idea for the event and created the website
www.1in133.org
.
Andrea Levario, Executive Director of the American Celiac Disease Alliance (ACDA), simultaneously crafted a successful political strategy in conjunction with ACDA President Beth Hillson, who is also food editor of Living Without magazine. ACDA has been a key proponent of gluten-free food labeling since 2003. I was the national liaison to the summit for the Celiac Disease Foundation, a founding member of ACDA. Here's part of our group, on the way to one of a dozen Congressional meetings on May 4th. From left: Susan Walters-Flood (NuWorld Amaranth), Andrea Levario (ACDA), Jeremy Reich, Beth Hillson (ACDA).
Members of Congress were very receptive. Representative Betty McCollum (D-MN) and Representative Nita Lowey (D-NY), are particularly committed to tracking FDA's progress and seeing this through. They both attended the evening reception at the Embassy Suites Washington D.C.
Just a few of the many others present that evening and supporting the event: Dr. Alessio Fasano of the University of Maryland Center for Celiac Research; the University of Chicago Celiac Disease Center; King Arthur Flour Company; Nu-World Amaranth; Glutino/Gluten-Free Pantry; Celiac Disease Foundation; Gluten Intolerance Group; National Foundation for Celiac Awareness; Lee Tobin of Whole Foods Gluten-Free Bakehouse;
Something that week also triggered a response by the FDA. Was it the
Washington Post article
critical of the FDA's delay, 10,000 letters to the FDA by members of the public, or perhaps the world's tallest gluten-free cake (11 ft. 2 in.!) at the evening reception? Mike Taylor, the FDA's deputy commissioner for foods, attended the reception and seemed impressed that the coalition is so broad-based and includes prominent members of the gluten-free food industry.
Pictured below at the reception, from the left: FDA Deputy Commissioner Mike Taylor, Living Without magazine editor Alicia Woodward, Representative Betty McCollum (D-MN), American Celiac Disease Alliance executive director Andrea Levario.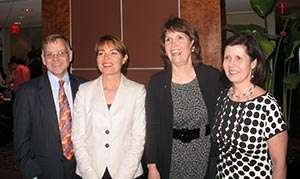 Deputy Commissioner Taylor told
ABC news
"I want people to understand that the FDA gets it. We're on this. We'll get this moving," He also spoke before the assembled crowd in the hotel lobby and promised to get the job done. He said the long-awaited safety assessment to determine a safe level for gluten in food would be out within a few weeks, open for a public comment period, and the final rule would follow.
Let's see, that was three weeks ago...FDA, we are watching and waiting.
So who is Monty? The Celiac Disease Foundation support group I lead in Northern California,
North Bay Celiacs
, had a new mascot for our fundraiser this May during Celiac Disease Awareness Month. He is pictured below with our fundraising director, Molly Dillon. O.K., we must admit that he is not really a gluten-sniffing dog, but he is helping keep an eye on the FDA for us. He supports the FDA's proposed rule of allowing food to be labeled gluten-free if it contains less than 20 parts per million of gluten.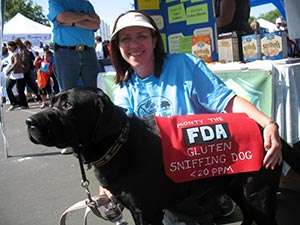 We'll keep everyone posted on developments.
As always, Celiac.com welcomes your comments (see below).

Get Email Alerts (More Info)
Jennifer Iscol
Jennifer Iscol is president of the Celiac Community Foundation of Northern California (http://www.celiaccommunity.org), She has volunteered in this field since 2006, when her son was diagnosed with celiac disease and she founded North Bay Celiacs. She received the 2010 Champion of Celiac Awareness Award from the Celiac Disease Foundation. Jennifer holds an undergraduate Political Economy degree from U.C. Berkeley and a graduate degree in International Relations from Yale. She worked in foreign and defense policy at nonprofit organizations, in Congress and at the State Department, and then became a cartographer at the National Geographic Society. She now resides in Northern California and devotes her time to her family and celiac disease awareness.
1 Response:
In Celiac.com's Forum Now:
https://www.twinings.co.uk/hot-chocolate-coffee-other-drinks/hot-chocolate-and-malt-drinks/twinings-swiss-chocolate-drink Have discovered this drink - it's great, labelled gluten free and is also fortified. I can't drink too much milk as I get bloated, but find it tastes really nice even m...
Ennis_TX, thank you for your response! I will take heed of all your nutritional pieces of advice, one by one. And yes, I am aware that a gluten marathon is on the horizon soon. Before doing the test, however, I shall try to fortify my diet with the nutrients you mentioned, and report ...
Yeah I thought that rant might make me look like a queer after reading it a bit later.....I am straight btw I just have very long and fine hair...that yeah it blows everywhere and gets in my mouth sometimes, and always pushing it with my hands or having to tie it up. I blew up because it sometim...
B-vitamins...most gluten and processed foods are enriched...your basically eating a multivitamin every time you have a slice of bread etc. Look for a full spectrum B-vitamin supplement, others can be magnesium, iron, vitamin d, folate, etc. You mention plenty of greens and fruit so ruling out vit...
Thanks guys! I have an endoscopy/colonoscopy feb 5th, so we will see. I have had digestive issues for the past like 10 years. GERD, migraines, lactose intolerant, dizziness on and off starting last year. My test just always show chronic inflammation, I thought they tested for celiac last time bu...