Gluten Detected in "Gluten-Free" Tesco Chocolate Flavoured Brownie Cake Bars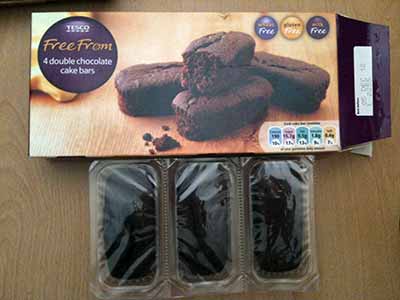 Tesco Ireland is recalling all batches of its "Free From" 4 Chocolate Flavoured Brownie Cake Bars as gluten was detected in some batches. This product is labelled as gluten free and therefore it may be unsafe for consumers who are allergic to or intolerant of cereals containing gluten.
More Info: https://www.fsai.ie/news_centre/allergen_alerts/recall_glutenfree_cakebars.html
As always, Celiac.com welcomes your comments (see below).

Get Email Alerts (More Info)
Scott Adams
In 1994 I was diagnosed with celiac disease, which led me to create Celiac.com in 1995. I created this site for a single purpose: To help as many people as possible with celiac disease get diagnosed so they can begin to live happy, healthy gluten-free lives. Celiac.com was the first site on the Internet dedicated solely to celiac disease. In 1998 I founded The Gluten-Free Mall, Your Special Diet Superstore!, and I am the co-author of the book Cereal Killers, and founder and publisher of Journal of Gluten Sensitivity.
Comments
In Celiac.com's Forum Now:
We are going to try to make our own this year, but I've seen some great gingerbread houses made out of graham crackers. There are plenty of gluten-free graham crackers out there--Pamela's are nice and sturdy for building! If you make your own, the nice thing is that you don't have to worry whethe...
Symptoms from many illnesses often overlap, so you can not diagnose celiac disease based on them (not to mention that there are over 200 possible symptoms). Best to get a simple blood test. Learn more about testing: http://www.cureceliacdisease.org/screening/
I have eaten the Southwest chicken salad at McDonald's many times, with the grilled chicken and no chips. I have celiac disease, and have no problems with this salad. It's a stand by for me when traveling.
That sense of your thoughts being in a non productive loop is a classic depression symptom I can certainly recognise! The good news is that those patterns you can fall into you can also train yourself to get out of. Some of the best results come from Cognitive Behavioural Therapy or CB...
Hi Lex, First step would be to eliminate celiac. Gluten is well established as the cause of celiac. If you eliminate celiac but still react to gluten foods then it becomes trickier. Non Celiac Gluten sensitivity NCGS is still not universally accepted and there are differing views on whe...