Murry's Voluntary Recall of Bell & Evans Gluten Free Breaded Chicken Breast Nuggets
Celiac.com 07/17/2015 - Today, the USDA issued a voluntary recall notice on one item produced at Establishment P-516, Murry's, Inc., in Lebanon, PA. This item was produced and packaged by Murry's, Inc., for the Bell & Evans' brand. The product in question is focused on one production date of March 25, 2015 to include Bell & Evans GLUTEN FREE Breaded Chicken Breast Nuggets with a BEST BY: 03/25/16. They were distributed to various Bell & Evans customers. The official recall notice can be found here: http://www.fsis.usda.gov/wps/portal/fsis/topics/recalls-and-public-health-alerts/recall-casearchive/archive/2015/recall-100-2015-release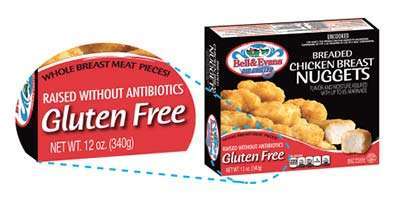 As a result of this report, Bell & Evans is alerting our customers and assisting in the removal of the product from our distribution and retail channels. We are also working closely with both the USDA and Murry's, Inc., to aggressively rectify this situation. Bell & Evans takes this claim very seriously and are doing what's necessary to ensure the public health.
The specific information for the item involved is:
BE Item#: 20229 – Bell & Evans GLUTEN FREE Breaded Chicken Nuggets

12 oz retail box
Best by: 03/25/16
UPC #: 738985277291
Please note, there are NO REPORTED illnesses related to this recall.
Bell & Evans GLUTEN FREE Breaded Chicken Breast Nuggets showing the BEST BY: 03/25/16, is the ONLY product involved. The best by date can be found on the master case label and on the front of the individual retail unit. If you are a wholesale customer in possession of product from this date ONLY, please segregate it and place it on HOLD. We will follow up with specific instructions on returning the product.
Most importantly, Bell & Evans fresh products or any of our other products ARE NOT INVOLVED. We are confident and committed to the continued quality of all of our products.
Consumers with questions may contact Murry's Customer Service directly at 1-800-638-0215 between the hours of 9am and 5pm (EDT), Monday thru Friday. You can also click HERE for a list of "Frequently Asked Questions."
As always, Celiac.com welcomes your comments (see below).

Get Email Alerts (More Info)
Scott Adams
In 1994 I was diagnosed with celiac disease, which led me to create Celiac.com in 1995. I created this site for a single purpose: To help as many people as possible with celiac disease get diagnosed so they can begin to live happy, healthy gluten-free lives. Celiac.com was the first site on the Internet dedicated solely to celiac disease. In 1998 I founded The Gluten-Free Mall, Your Special Diet Superstore!, and I am the co-author of the book Cereal Killers, and founder and publisher of Journal of Gluten Sensitivity.
Comments
In Celiac.com's Forum Now:
hahaha, squirmy! yup!
https://www.celiac.com/gluten-free/topic/119661-gluten-free-food-alternative-list-2017/ Did not check earlier but I did not mention that the simple mills was corn free, though I did mention grain free.
It's Tesco treat time again. The good news is they have a new chocolate gateau: The bad news is that it has replaced the strawberry one and I'm not as keen on it... I think this is in part because there's no shortage of chocolate desserts already whereas the strawberry one was somethin...
You've just realized you have a health condition which can't be diagnosed formally. You haven't felt ok for quite some time, but didn't really know why. You were thinking it was just stress. But then there was a couple of weeks which weren't particularly stressful, so you were wondering 'why...
How about gluttony? Three ears? That much corn can be hard to digest for anyone, let alone a celiac with a damaged gut. I hope you feel better soon!