Joseph Epstein Food Enterprises Recalls Gluten-Free Turkey Meatball Products Due to Excessive Gluten
Joseph Epstein Food Enterprises, Inc., an East Rutherford, N.J. establishment, is recalling approximately 190 pounds of turkey meatball products due to misbranding, the U.S. Department of Agriculture's Food Safety and Inspection Service (FSIS) announced today. The label declares the product as "gluten-free," a false negative claim.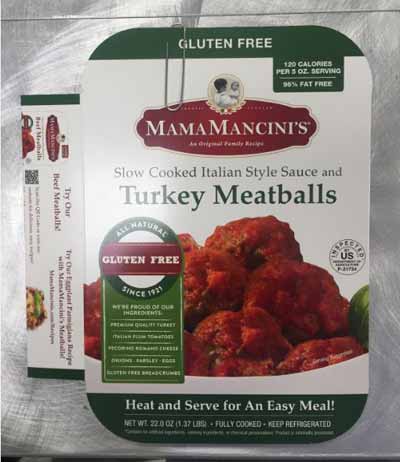 The Mama Mancini's gluten-free turkey meatball items were produced on Oct. 19, 2015. The following products are subject to recall: [View Labels]
22-oz. cartons of "Mama Mancini's Slow Cooked Italian Style Sauce and Turkey Meatballs – Gluten Free."
The products subject to recall bear establishment number "P-21734" inside the USDA mark of inspection, product code 4740 and expiration date "Use by 12/10/15." These items were shipped to retail locations in New Jersey.
The problem was discovered during the establishment's third party laboratory testing; the product was found to contain an excess of the maximum allowable 20 ppm of gluten. The establishment notified FSIS of the problem.
There have been no confirmed reports of adverse reactions due to consumption of these products. Anyone concerned about an injury or illness should contact a healthcare provider.
Consumers who have purchased these products are urged not to consume them. These products should be thrown away or returned to the place of purchase.
FSIS routinely conducts recall effectiveness checks to verify recalling firms notify their customers of the recall and that steps are taken to make certain that the product is no longer available to consumers. When available, the retail distribution list(s) will be posted on the FSIS website at www.fsis.usda.gov/recalls.
Consumers with questions about the recall can contact Mr. Matt Brown, President, at (917) 705-7514. Media with questions about the recall can contact Mr. Carl Wolf at (973) 985-0280.
Consumers with food safety questions can "Ask Karen," the FSIS virtual representative available 24 hours a day at AskKaren.gov or via smartphone at m.askkaren.gov. The toll-free USDA Meat and Poultry Hotline 1-888-MPHotline (1-888-674-6854) is available in English and Spanish and can be reached from l0 a.m. to 4 p.m. (Eastern Time) Monday through Friday. Recorded food safety messages are available 24 hours a day. The online Electronic Consumer Complaint Monitoring System can be accessed 24 hours a day at: http://www.fsis.usda.gov/reportproblem.
As always, Celiac.com welcomes your comments (see below).

Get Email Alerts (More Info)
Scott Adams
In 1994 I was diagnosed with celiac disease, which led me to create Celiac.com in 1995. I created this site for a single purpose: To help as many people as possible with celiac disease get diagnosed so they can begin to live happy, healthy gluten-free lives. Celiac.com was the first site on the Internet dedicated solely to celiac disease. In 1998 I founded The Gluten-Free Mall, Your Special Diet Superstore!, and I am the co-author of the book Cereal Killers, and founder and publisher of Journal of Gluten Sensitivity.
Comments
In Celiac.com's Forum Now:
As mentioned above is true, I used to love fruit I got other AI diseases and some other issues that prevent me from eating fruit but I am a freak lol. ANYWAY since your new I will link you the newbie 101 threads. I would be more concerned with hidden gluten in your old condiment filled with crum...
Some people can be asymptomatic, I know a few celiacs like this. Needless to say, this doesn't mean that gluten isn't still wreaking havoc in your intestines.
Hi, I have recently been diagnosed and very worried about fertility. We wanted to start trying for a baby but now won't for awhile. Has anyone got any information on this? also, I am not sure if I accidentally ate gluten last week but I was unwell for a day and since then have had green stoo...
I've never used GFWD. I assume that is a website called gluten free watchdog? I've heard others mention it. I do have pictures. I will look them up. Thanks
thanks