Maggi Chicken Bouillon Cubes Recalled Due to Undeclared Wheat
According to Hannaford's Web site: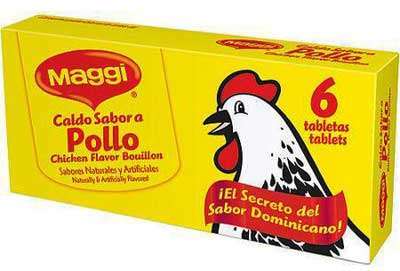 "This product contains undeclared wheat flour as an ingredient. The presence of an undeclared wheat ingredient poses a potential health hazard."
Maggi Chicken Bouillon Tablets, 5.08 oz., UPC # 28000-11567
Maggi Chicken Bouillon Tablets, 2.43 oz., UPC # 28000-24795
Obviously since the product contains wheat flour it would not be gluten-free and anyone with celiac disease or gluten sensitivity should heed this warning.
As always, Celiac.com welcomes your comments (see below).

Get Email Alerts (More Info)
Scott Adams
In 1994 I was diagnosed with celiac disease, which led me to create Celiac.com in 1995. I created this site for a single purpose: To help as many people as possible with celiac disease get diagnosed so they can begin to live happy, healthy gluten-free lives. Celiac.com was the first site on the Internet dedicated solely to celiac disease. In 1998 I founded The Gluten-Free Mall, Your Special Diet Superstore!, and I am the co-author of the book Cereal Killers, and founder and publisher of Journal of Gluten Sensitivity.
1 Response:
In Celiac.com's Forum Now:
Has anyone ever flown with a toaster in your luggage? I have to travel for work in a couple weeks. Staff (me) are being told we have to eat at the meals provided. They have assured me that the hotel will have gluten-free meals for me. I saw the menu for breakfast, and I can't imagine i...
No corn or grains of any kind in their items that I have found. I get them at my local Wegmans and don't know if they are available where you are. Chebe mixes are also grain free. I used them a lot when first diagnosed. They are also tapioca based.
Shar is one of the leading gluten free manufactures, the company is from Europe and if I recall has even stricter gluten testing guidelines then the US. The company primarily uses corn, soy and starches in the goods so I personally can not try them or vouch for them (allergic). I know many other...
That company is good as far as being gluten free goes however they use a lot of soy protein or flour in their items. When first diagnosed I thought I was being glutened by many gluten free foods that were made in dedicated facilities. It took my doing a food and symptom log to realize the common ...
Would that be Fibromyalgia? I am sorry that you are feeling so much pain. I hope the prednisone works for you. I think Fibromyalgia is a separate issue from celiac disease.