ImmunoMolecular Therapeutics Announces Two Issued Patents for Small Molecule Therapies in Type 1 Diabetes and Celiac Disease
ImmunoMolecular Therapeutics (IM Therapeutics), a company developing personalized small molecule therapies for the treatment of genetically defined autoimmune diseases, today announced the issuance of US Patent 9,629,848 covering the use of methyldopa (MDOPA) and other small molecular entities in immunotherapy for type 1 diabetes (T1D) and US Patent 9,820,957 covering the use of the D enantiomer of methyldopa (D-MDOPA) for T1D and celiac disease. Proprietary molecule, D-MDOPA, is being developed as lead candidate, IMT-002, to inhibit the autoimmune cascade in recent onset T1D patients with the human leukocyte antigen (HLA)-DQ8 gene.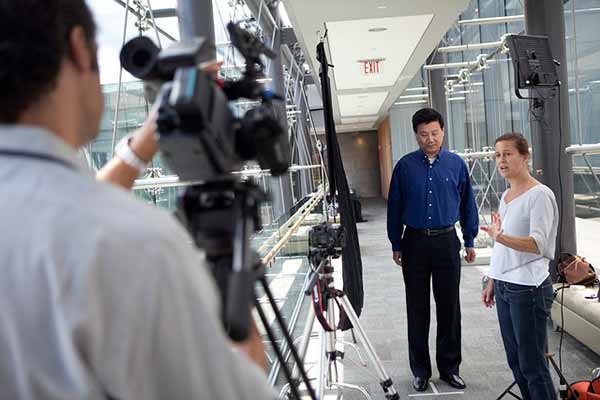 "The issuance of these patents ensures that IM Therapeutics has exclusive rights to use methyldopa and D-methyldopa in immunotherapy for T1D and will be essential in solidifying the intellectual property protection of IMT-002 as it advances through the clinic and eventually to commercialization as a potential treatment for the underlying autoimmunity of T1D," said Steve Orndorff, Ph.D., Chief Executive Officer, IM Therapeutics.
These patents provide further support for IM Therapeutics' celiac disease program that is currently using in silico discovery and proprietary screening assays to identify and validate new small molecule inhibitors of DQ2, the major genetic risk factor for celiac disease and part of the HLA-MHC Class II target platform for autoimmune diseases being explored by IM Therapeutics.
The patents have claims to composition of matter, dosing, formulation, and use, and enhance the protection offered by IM Therapeutics' exclusive, worldwide license from the University of Colorado. IM Therapeutics was previously granted Orphan Drug status for MDOPA, also applicable to D-MDOPA, from the United States Food and Drug Administration, further strengthening marketplace protection for IMT-002.
About IMT-002
IMT-002 (D-methyldopa) is an oral small molecule drug being developed to treat type 1 diabetes (T1D) in patients with the HLA-DQ8 gene. IMT-002 occupies the peptide binding groove of DQ8 present on the surface of antigen presenting cells where diabetogenic peptides such as insulin are presented to CD4 T-lymphocytes to initiate the autoimmune cascade. When HLA-DQ8 function is inhibited, the immune system will no longer attack insulin producing beta-cells, thus creating the potential for at risk or early stage patients to maintain normal insulin production.
About IM Therapeutics
IM Therapeutics is developing personalized immuno-therapeutic drugs for autoimmune diseases based on the genetic risk attributed by human leukocyte antigen genes. The lead candidate drug is an oral small molecule that starves the autoimmune process in type 1 diabetes by blocking DQ8 on specific immune cells. Our goal is to preserve pancreatic beta cell function and maintain normal insulin production in at-risk and early-stage patients with type 1 diabetes.
http://imtherapeutics.com/
View source version on businesswire.com: http://www.businesswire.com/news/home/20171206005289/en/
Read more: http://www.digitaljournal.com/pr/3586192#ixzz50biBt6IB
As always, Celiac.com welcomes your comments (see below).

Get Email Alerts (More Info)
Scott Adams
In 1994 I was diagnosed with celiac disease, which led me to create Celiac.com in 1995. I created this site for a single purpose: To help as many people as possible with celiac disease get diagnosed so they can begin to live happy, healthy gluten-free lives. Celiac.com was the first site on the Internet dedicated solely to celiac disease. In 1998 I founded The Gluten-Free Mall, Your Special Diet Superstore!, and I am the co-author of the book Cereal Killers, and founder and publisher of Journal of Gluten Sensitivity.
Comments
In Celiac.com's Forum Now:
While a diagnosis is nice to have, it is possible to remain gluten free and LCHF. My hubby has been for over 16 years (long before my diagnosis). There is no way he would consider a challenge (we like to pay our bills!) Just because you have the genes to develop something, does not mean i...
In my case Ulcerative Colitis for me reacts to fructose, glucose, and sucrose....in addition to the common triggers I am already avoiding. Sugars/carbs/starches cause a type of flare up. IT becomes apparent with I get anemic and start shitting blood and mucus. Keto it went from globs of blood, ex...
I buy EOS which marked Gluten Free. I can get it in bulk at Costco in yummy flavors. If you are in doubt or in a pinch, try Plain old Vaseline or Coconut Oil.
Enis_TX: Thank you for the reply. I'm doing Atkins/Keto/Paleo combos so I would love recipes or tips! I started with Atkins but they use a lot of sugar alcohols in their products and those don't agree with me. I still use the tracker but I've switched to more fats with the Keto macros rather than...
Thank you for the information. I will give Aquaphor a try!