Gel Spice Company, Inc. Issues Allergy Alert On Undeclared Soy And Wheat In Beef Flavored Bouillon Cube Products
Gel Spice Company, Inc. is voluntarily recalling certain Spice Time and Spice Supreme Beef Flavored Bouillon Cube products (identified below) because they contain undeclared soy and wheat. People who have an allergy or severe sensitivity to soy and/or wheat run the risk of serious or life-threatening allergic reaction(s) if they consume these products.
The recall covers the following products:
Brand/Description and Net Weight
Product Labels
Best By Date Code(s)*
UPC NUMBER
Spice Time Beef Flavored
Bouillon Cubes
NET WT. 1.7 OZ (48 g)
"See below for the product label"
11/06/20
079679000543
Spice Supreme
Beef Flavored Bouillon Cubes 25 Count
NET WT. 3-1/2 OZ (98 g)
"See below for the product label"
11/20/20
076114304419
Spice Supreme
Beef Flavored Bouillon Cubes
NET WT. 1.7 OZ (48 g)
"See below for the product label"
09/26/20 11/06/20 12/05/20
076114304426
* "Best By Date" coding can be found on the back of the product bottle, below the product cap and above the product label.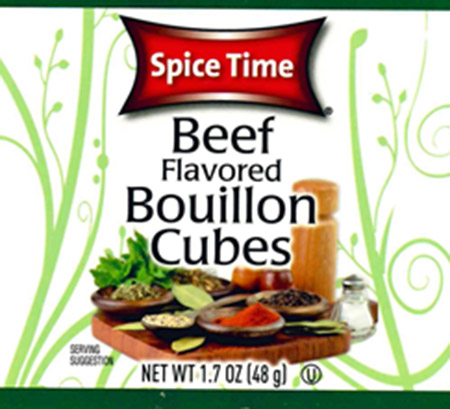 The beef flavored bouillon cube products identified above were distributed by Gel Spice throughout the United States to retail locations and distribution centers located in: Alabama; California; Connecticut; Florida; Georgia; Illinois; Indiana; Iowa; Maryland; Michigan; Minnesota; Montana; New Hampshire; New Jersey; New York; North Carolina; Ohio; Pennsylvania; South Carolina; South Dakota; Texas; Virginia; and Washington.
Out of an abundance of caution and with an emphasis on consumer safety, Gel Spice is issuing this voluntary recall to ensure that consumers are made aware of the potential hazard. No reports have been received to date of any consumer injuries or complaints.
The recall was initiated after it was discovered that the beef bouillon flavored cube products containing soy and wheat were distributed in packaging that did not reveal the presence of such soy and wheat. Subsequent investigation indicates the problem was caused by a temporary packaging error that has now been rectified.
Consumers who have purchased the Spice Time and Spice Supreme products identified above are urged to return them to the place of purchase for a full refund. Customers are encouraged to visit Gel Spice's website (http://recall.gelspice.com) to register to receive a replacement product at no charge. Customers with questions about the recalled product may also call Gel Spice at 201-354-2203 between 9:00 a.m. and 5:00 p.m. EST, Monday through Friday, or may e-mail the company at recall@gelspice.com.
As always, Celiac.com welcomes your comments (see below).

Get Email Alerts (More Info)
Scott Adams
In 1994 I was diagnosed with celiac disease, which led me to create Celiac.com in 1995. I created this site for a single purpose: To help as many people as possible with celiac disease get diagnosed so they can begin to live happy, healthy gluten-free lives. Celiac.com was the first site on the Internet dedicated solely to celiac disease. In 1998 I founded The Gluten-Free Mall, Your Special Diet Superstore!, and I am the co-author of the book Cereal Killers, and founder and publisher of Journal of Gluten Sensitivity.
Comments
In Celiac.com's Forum Now:
Same stuff, different brand. Ingredients Mung Bean Starch. Cellophane. I don't know why I thought glass. The Hokan Saifun is $2.09 for 3 noodle cakes 3.75 ounces. ingredients: mung bean flower and water. After it is cooked I snip it with scissors. Saifun noodles are known as: Mung Bean Thre...
If your concerned on wheat/gluten, see about getting a actual celiac blood test done, you have to be eating wheat for the test to be accurate. After that you will need the follow up endoscope and biopsy. http://www.cureceliacdisease.org/screening/
I play a few online games...not as much as I used to, and I no longer really do the social aspect of them. EVE Online when bored I might just get on it and mine some asteroids, or run missions while watching anime or reading a book...makes me feel productive "Multitasking" lol. I have a few phone...
Two options for online noodles that are lower carb, the cellophane noodles as suggested but I really do swear by Miracle Noodles which are No to low carb. They have and adjustment phase...they are pure fiber noodles. They can cause issues if your not used to them, or if you have bad gut bacteria....
Hokan Bean Thread Cellophane noodles. also called Saifun. Publix supermarket has it on the Ethnic food aisle bottom shelf below the Tamari, with the other aisian noodles.