Do You Have Celiac Disease and Have Questions Or Need Help?
Join Celiac.com's forum / message board and get your questions answered! Our forum has nearly 1 MILLION POSTS, and over 62,000 MEMBERS just waiting to help you with any questions about celiac disease and the gluten-free diet. We'll see you there!
Follow / Share
FOLLOW US:
---
SHARE:

Popular Articles
Psoriasis and Celiac Disease
Psoriasis and Celiac Disease
This category contains summaries of research articles that deal with psoriasis and it's association with celiac disease. Most of the articles are research summaries that include the original source of the summary.
Published 05/19/2012
Rating: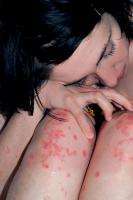 Photo: CC - mysiana
Because a number of past studies examining the connection between celiac disease and psoriasis have had contradictory findings, researchers wanted to get a better idea of the actual risk of psoriasis in patients with biopsy-verified celiac disease.
Published 09/10/2010
Rating:



New study on psoriasis and celiac. Photo: CC--A4GPA
Women who regularly drink beer may face higher risk of developing psoriasis, an autoimmune disorder that causes skin rashes and other, according to a new study, though beverages, such as light beer and wine, showed no such elevated risk.
Published 04/12/2010
Rating:



A recent study examines connections between psoriasis, the liver, and the gastrointestinal tract. The findings emphasize the importance of encouraging psoriasis patients to drastically improve their modifiable cardiovascular and liver risk factors, especially obesity, alcohol and smoking intake, because improvements could have positive impact on both the psoriasis and the patient's general well-being.
Published 10/12/2009
Rating:



After reading an article in The Economist explaining a the mechanism linking eczma and asthma, I wondered whether this same rationale could apply to psoriasis and gluten sensitivity.
Br J Dermatol. 2004 Oct;151(4):891-4 Celiac.com 11/09/2004 – A study carried out by Irish