Do You Have Celiac Disease and Have Questions Or Need Help?
Join Celiac.com's forum / message board and get your questions answered! Our forum has nearly 1 MILLION POSTS, and over 62,000 MEMBERS just waiting to help you with any questions about celiac disease and the gluten-free diet. We'll see you there!
Follow / Share
FOLLOW US:
---
SHARE:

Popular Articles
Gluten-Free Pancake Recipes
Gluten-Free Pancake Recipes
Gluten-Free Pancake Recipes - Please submit your favorite gluten free pancake recipe here by registering as an author on our site. Your recipes will appear here and help thousands of other people with celiac disease.


Published 10/14/2010
Rating: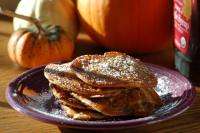 Perfect gluten-free pumkin pancakes for Halloween!
Fluffy, yummy, subtly pumpkin-y (is that a word?!) pancakes that just beg for the cooler temperatures of autumn! Decorate with strategically placed berries or chocolate chips to make jack-o-lantern pancakes!
Published 08/27/2010

Unrated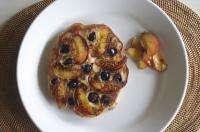 Gluten-free blueberry-peach pancakes are a summertime treat. Photo: Jefferson Adams
Gluten-free pancakes are a real treat. Fresh fruit pancakes are a summertime treat. In summer, when the blueberries and peaches are here, I like to whip up a batch of blueberry or peach pancakes, or, if I'm feeling especially summery, a batch of blueberry-peach pancakes.
Published 08/12/2010
Rating: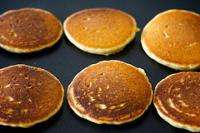 Photo: CC/D'Arcy Norman
I haven't had pancakes in over a year. I have tried many gluten-free, vegan pancake recipes only to end up throwing out a big pile of goo; which is why when I discovered this recipe, I was elated! Not only does this gluten-free vegan pancake recipe actually work, it makes delicious pancakes that are gluten-free, dairy-free, egg-free, nut-free and low glycemic.
This recipe comes to us from Alice DeLuca. Mix in bowl: 1 cup brown rice flour ½ cup potato
This recipe comes to us from Lin Goldkrantz. Mix dry ingredients in a large bowl: 1 cup rice four
This recipe comes to us from Dawn Dutton. Recipe makes 1 pancake, takes about 10 minutes to cook.
2 tablespoons gluten-free margarine 1 ½ teaspoon cinnamon 3 tablespoons sugar 4-5 Granny
This recipe comes to us from Mary Brack. Make Betty Hagmans gluten-free flour mix: 2 cups white r
The following recipe is from Peter Thomsons Gluten-Free Cookery cookbook. 3 eggs ½ pi
This recipe comes to us from Joyce. My sorghum blend is 2 cups sorghum, 2/3 cup arrow root, 1/3
This recipe comes to us from Sue DeVries. Use the same recipe as for Snickers Cookies except you
1 ¼ cups rice flour 2 teaspoons baking powder 1 teaspoon soda ½ teaspoon salt 1
This recipe comes to us from Mireille Cote. 2 ½ cups rice flour (could be white, brown or