Gluten-Free Russian Recipes
Gluten-Free Russian Recipes
Gluten-Free Russian Recipes - Please submit your favorite gluten free Russian recipe here by registering as an author on our site. Your recipes will appear here and help thousands of other people with celiac disease.
Published 12/23/2014
Rating:



Photo: CC--A. Fielder
I confess to being a bit picky about cabbage. I like it, but I tend to be a bit finicky about how it is prepared. When I saw these at a party recently, I was reluctant to give them a try.
Published 09/7/2010
Rating: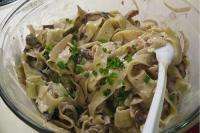 Beef stroganoff with pasta. Photo: CC-Laura HB
This classic Russian dish has stood the test of time. From its origins in the early 19th century to its surging popularity in the 1950s, Beef Stroganoff remains a favorite today. Versatile and easy to make, it can be served over noodles, rice, or potatoes. This gluten-free version is a sure to please.