Celiac Disease and Gluten-Free Diet Support
---
---
---
---
Follow / Share
FOLLOW US:
SHARE:

Popular Articles
Gluten-Free Recipes: Cooking Tips
Gluten-Free Recipes: Cooking Tips
Gluten-Free Recipes: Cooking Tips - Please submit your favorite gluten free cooking tips here by registering as an author on our site. Your recipes will appear here and help thousands of other people with celiac disease.
Published 10/13/2014
Rating: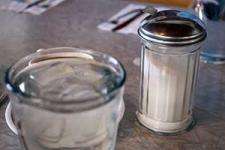 Sugar—the very word brought the lively conversation at my dinner party to a screeching halt. As my guests savored their cake, I could feel ten pairs of ears eavesdropping as I discussed this emotionally laden word with the woman seated next to me.
Published 09/3/2013
Rating:



Health food enthusiasts and gluten-free bakers are leaning towards a new flour alternative. Once scarce and requiring tedious home preparation, almond flour is peeled and ground to perfection, light, and readily available.
Published 07/19/2013
Rating:



Photo: CC--SWIMPHOTO
For patients with Celiac, understanding the requirements of a gluten-free kitchen is crucial. Here are the specifics.
With a bit of planning anyone with celiac disease can enjoy a safe, gluten-free Thanksgiving and holiday season without the concern of accidental gluten ingestion.
This recipe comes to us from Lori Nies. (Dose: 1-2 tablespoons per day for adults) 1 pound prunes
(Gluten & Corn Free) Ingredients: 1/3 cup Baking Soda 2/3 cup Cream of Tartar 2/3 cup Arrowr
Xanthan gum can be substituted for guar gum. Rice bran can be substituted for rice polish
Knox un-flavored gelatin is readily available in regular grocery stores in the baking supp
¾ teaspoon of xanthan gum per cup of flour & one teaspoon of methylcellulose per cup of f