Gluten-Free Waffle Recipes
Gluten-Free Waffle Recipes
Gluten-Free Waffle Recipes - Please submit your favorite gluten free waffle recipe here by registering as an author on our site. Your recipes will appear here and help thousands of other people with celiac disease.
Published 03/24/2011

Unrated




The finished gingerbread waffles. CC-mhaithaca
These waffles are warm and cozy on top of bursting with flavor. They're perfect for breakfast or brunch but also hearty enough for one of those breakfast-for-dinner nights.
Published 08/10/2010
Rating: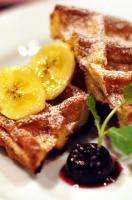 Photo: CC/ Puamelia
Here is a recipe that will leave you wanting more. The great thing about waffles is they can be frozen for a later date, so you can never make too many. This recipe is gluten-free, and also free of most common allergens including; dairy, eggs, nuts, and corn.
This recipe comes to us from Carol Arendt and is for those who love crispy waffles!
Published 06/30/2008

Unrated




Make a brown rice sourdough starter and enjoy these amazing waffles. It's easy to make a sourdough starter with brown rice flour and warm water in a glass jar or plastic container, allowing naturally occurring yeast to grow over a few days.
Do you like Pumpkin Pie? How about Pancakes and Waffles? If your answer is yes to both you'll love this fantastic recipe!
Kefir Buckwheat Waffles (Gluten-Free)
Sour Cream Buckwheat Waffles (Gluten-Free)
This recipe comes to us from Jessie. Sift together: ½ cup rice flour ½ cup tapioc
This recipe comes to us from Carol Lydick. 1 ½ cups gluten-free flour mix (I use Hagman mix:
This recipe comes to us from Ellen Switkes Grate one or more potato including skin. Dice up fin