---
Celiac.com Sponsor (A1-m):

---
Celiac.com Press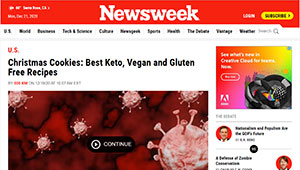 Newsweek
December 18, 2020
Christmas Cookies: Best Keto, Vegan and Gluten Free Recipes
Celiac.com was featured in an article on Newsweek that covers holiday cookie recipes:
"Celiac.com, which features a network of authors including 'doctors, nurses or nutritionists who are leading experts on celiac disease,' according to the website, offers a gluten-free (and dairy-free) version of classic sugar cookies. The recipe can be adapted to create four different variations (snickerdoodles, cut-out cookies, pressed cookies and 'jammie sammies').
This recipe uses whole grain sorghum and brown rice flour and requires either walnut or sunflower oil as a butter substitute.
Christmas Cookies: Best Keto, Vegan and Gluten Free Recipes."
---
Insider
September 11, 2020
Title: 7 things you may not know about celiac disease — a disorder that forces you to cut out gluten
Janaki Jitchotvisut and Anna Medaris Miller's article discusses the basics of celiac disease, and cites Celiac.com's article "22 Diseases or Conditions that Require Celiac Disease Screening" as an authoritive source for celiac disease screening recommendations:
"Recommendations from major celiac disease organizations say people with any of some 22 illnesses should get tested for the disease, according to Celiac.com."
---
The Economist - Babbage Podcast
August 15, 2018
Title: Babbage: Jumping the Q
Chiara Eisner interviewed Scott Adams regarding celiac disease symptoms and diagnosis, the gluten-free diet, and future treatments for celiac disease.
---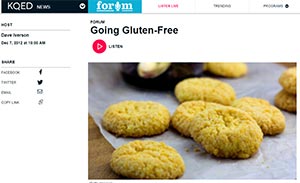 KQED's Forum with host Dave Iverson
December 7, 2012
Title: KQED Forum: Going Gluten-Free
Dave Iverson interviewed staff writer Jefferson Adams for an episone called "Going Gluten-Free" which discusses: "If you're gluten-free, going to the grocery store used to mean spending hours reading labels to avoid anything with wheat, barley or other grains. But with the rising number of people with celiac disease and gluten intolerance, more stores and restaurants are offering gluten-free foods. We'll discuss the rise of gluten-free diets."
This interview provides an excellent overview on the rise of the gluten-free diet.
---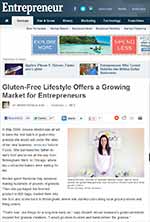 Entrepreneur.com
September 12, 2012
Title: Gluten-Free Lifestyle Offers a Growing Market for Entrepreneurs.
by Brian Eha
Brian Eha interviewed Scott Adams regarding past and future trends in the celiac disease/gluten-free market, especially with regard to the future growth of gluten-free product sales.
This acritle gives a snapshot of the current market, traces some of its historical growth, and gives a perspective on its possible future.
---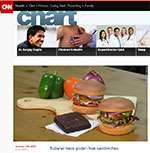 CNN.com
January 14, 2011
Title: Subway tests gluten-free sandwiches
CNN's Madison Park includes Celiac.com and Scott Adams in an article on Subway's new gluten-free sandwich buns.
"With Subway exploring a wheat-free alternative, is this a sign that major food chains are paying more attention to gluten sensitivities such as celiac disease?
Scott Adams, founder of celiac.com hopes so.
'Increasingly, restaurants are paying more attention to people with celiac,' he said, also listing Outback Steakhouse, Bonefish Grill and P.F. Chang's."
---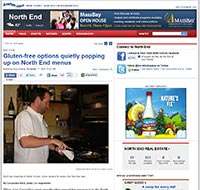 Boston.com
November 17, 2011
Title: Gluten-free options quietly popping up on North End menus.
by Cassandra Bent
Boston.com's Cassandra Bent interviewed Scott Adams regarding the future direction of the gluten-free food market, and current and future trends in celiac disease and gluten sensitivity diagnosis. From the article: "Today, Adams says, doctors are testing more patients and patients are asking to be tested more because of the vast amount of information and media coverage of the disease."
---
Wall Street Journal
Tuesday, November 1, 2005, Pg. D4
Title: Choices Grow for Wheat-Free Diets
by Jane Zhang
Celiac.com was featured on Pg. D4 in an excellent article on the fast growing gluten-free food market, "That has fueled a 'constant bombardment' of the food companies by celiacs demanding to know what products are gluten-free, says Scott Adams, a celiac who founded the online Gluten-Free Mall and Celiac.com in Santa Rosa, Calif."
The article goes on to describe the gluten-free market in the USA as a $600 million dollar per year fast-growing industry, with celiac support group membership at over 95,000.
---
San Francisco Chronicle
Wednesday, May 11, 2005, Section F
Title: Against the Grain
by Carol Ness
Celiac.com was featured in the food section in an outstanding and very comprehensive article on gluten in foods and the gluten-free diet. In the section "Fact about celiac disease and some resources" it lists: Celiac.com--a comprehensive 10-year-old Web site, based in Santa Rosa. Founder Scott Adams reports 250,000 visitors a month, a number that is rising 10-20 percent a year. Great site for information, food lists, message boards and links."
---
Alternative Medicine
February 2005 Issue
Title: "What's Wrong with Wheat?"
by Sally Lehrman
Celiac.com was featured on Pg. 81 in an outstanding article on celiac disease in the February 2005 issue of Alternative Medicine magazine. In the section "A Day Without Gluten" Linda Smith, a librarian who lives in San Francisco, answers the question: "Are there any resources you'd recommend?" Her answer: "The one I've used the most is celiac.com. The site has lists of forbidden and safe foods, which is really handy, especially with all the unfamiliar ingredients used in processed foods, like malt, that we tend not to know about."
---
Woman's Day Magazine
February 17, 2004 Issue
Title: "The Disease in Disguise"
Celiac.com was featured on Pg. 64 in an excellent article on celiac disease in the February 17, 2004 issue of Woman's Day magazine. Woman's Day has more than four million subscribers, reaches a total audience of 20 million, and is one of the top ten selling magazines in the USA. Celiac.com is listed in this article as a prime source for information on celiac disease and the gluten-free diet.
---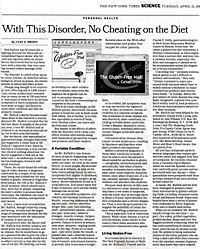 The New York Times
Tuesday, April 23, 2002
Health/Science Section
Title: With This Disorder, No Cheating on the Diet
Celiac.com was featured in a recent New York Times article on celiac disease. The article said the following:
"...But thanks to the efforts of others with the disorder, www.celiac.com offers reliable information along with
hundreds of gluten-free recipes and products and their vendors."
The article subsequently ran in many other newspapers across the country and internationally, including the International Herald Tribune.
---

Med411.com Directory - September 30, 2000
Congratulations. You've been directed to this page because we like your web site so much that we've added it to the med411.com directory.
Criteria for selection include:
Content of interest to healthcare professionals
Tone and presentation maintained at a professional level Site structure, navigation and graphic design executed at a professional level
A high level of integrity and credibility Benefits of inclusion in the med411 directory are:
Increased traffic as more healthcare professionals find your site in the med411.com directory.
Better qualified traffic from healthcare professionals who are serious enough about their career in healthcare to make med411.com a "must visit site" for Internet activities.
Enhanced credibility from being selected by an unbiased authority on professional-level
healthcare web sites.
Your inclusion in the med411.com directory entitles you to display the med411.com medical Award emblem!
---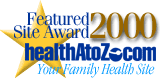 healthAtoZ.com
Congratulations! Your website has received an award from HealthAtoZ.com, the premiere site for authoritative health information on the Internet. You and your organization have been chosen above hundreds of others for superior content, ease of use, layout and/or overall appeal. Be on the lookout for our next email - the award will be attached, signifying that our seasoned team of medical catalogers has reviewed and chosen yours as a featured (starred) site.
---
Medinex Seal of Approval - July 16, 1999
Offered to sites which meet Medinex's high standards, and agree to follow their strict Code of Ethics governing a selected few Internet sites which are listed in their excellent directory.
---
Health Wave Directory - May 7,1999
After careful review by a human Information Specialist, we've deemed your Web site a valuable health resource and have added it to the HealthWave directory - http://www.healthwave.com/ and the Galaxy directory. Launched in January of 1994, Galaxy was the first Internet directory/search engine on the Internet, and one of the most respected names on the Web. Galaxy's goal is to provide the public with a gateway to the best of the Web and to build, in conjunction with our partners, smaller specialized directories, such as HealthWave, that provide users similar access to the best the Internet has to offer. Galaxy's high volume of traffic, consistently ranking it among the Web's top sites, makes a listing in Galaxy/HealthWave a valuable asset for any Web site.
---
Tufts University Nutrition Navigator
April 30,1999
Ratings:

Content

Usability

Accuracy of Information:
8 out of 10
User Experience: 3 out of 5
Depth of Information:
7 out of 7
Site Last Updated:
3 out of 3
Overall Rating: 21 out of 25 -- Better Than Most
COMMENTARY: Adams posts his medical horror story here, describing years of misdiagnoses, invasive tests, and mounting medical bills before finally being diagnosed with celiac disease. Wanting to spare others the same fate, he has assembled an extensive collection of articles focused on celiac disease÷diagnosis, symptoms, recent research, related medical conditions and more.
The site is plain, but it is neatly organized and updated often. Those with gluten-intolerance will especially appreciate the lists of food products that aregluten-free, resources for other product listings, and information about companies that carry these foods.
The articles on medical matters are written by MDs and Adams presents both unproved theories and well-established facts in a responsible manner. We were, however, disappointed that the "Nutrition links" included some really questionable choices and this shaved some points off the accuracy rating.
Key subjects covered at date of latest review: recipes, allergies.
---
Nov. 9, 1998 - Congratulations from Links2Go - Diseases!
Your page: https://www.celiac.com/ has been selected to receive a Links2Go Key Resource award in the Diseases topic! The Links2Go Key Resource award is both exclusive and objective. Fewer than one page in one thousand will ever be selected for inclusion. Further, unlike most awards that rely on the subjective opinion of "experts," many of whom have only looked at tens or hundreds of thousands of pages in bestowing their awards, the Links2Go Key Resource award is completely objective and is based on an analysis of millions of web pages. During the course of our analysis, we identify which links are most representative of each of the thousands of topics in Links2Go, based on how actual page authors, like yourself, index and organize links on their pages. In fact, the Key Resource award is so exclusive, even we don't qualify for it (yet ;)!
---
07/14/98 - Congratulations! 'Celiac Disease / Gluten Intolerance Support Page' Internet site at https://www.celiac.com/ has been included in the BioMedLink database.
BioMedLink is an evaluated and annotated database of Internet resources for the bio/medical community jointly created by BioMedNet and the University of Indiana. New entries are added weekly, and existing entries are reviewed and rated by our editorial board. BioMedLink has been described as 'the Yahoo for biological and medical researchers'.
---
Award Net is proud to present the "Celiac Support Page" with one of our "Most Prestigious Awards", the "Chef Award" - May 14, 1998.
This award is not given lightly. The web site was thoroughly reviewed/critiqued prior to award consideration. We are pleased to report, your web site received a rating of Outstanding in the "Chef Award" category. Well done!!
---

Food and Wine Online Newsletter Site of the Day for May 7, 1998.
Chosen for outstanding content and/or design, each selected site will be featured on our Web site and will also be feature on ChefNet our foodservice industry resource.
This award was developed by Gary Holleman, founder of ChefNet, editor of CUlinary Online, Food and Wine Online Newsletter, and Technology Editor for Food Arts magazine. The Food and Wine Online staff now continues this award as a tribute to Gary Holleman who passed away on October 21, 1997. Gary is now referred to by many as the "Father of the Culinary Internet".
---
Web Guide Magazine
November/December 1997, page 90.
Celiac Disease, General Information
Scott Adams' Celiac Support Page https://www.celiac.com/
From a broad overview of CD by a noted physician to close-up pictures of DH, this fellow celiac has compiled helpful information from a variety of sources including medical journals, books, doctors, scientists, and newsgroups. Get answers to FAQs, safe product lists, and information about grains. Read medical journal articles and research summaries, and plan to attend the next conference or meeting near you. Find out essential yet little-known information such as tax deductions for qualifying gluten-free items.
You'll also find information about related disorders and an explanation of allergy versus intolerance. Lists include suppliers of gluten-free products, celiac organizations, and publications, including gluten-free cookbooks, medical books, and newsletters with ordering and/or contact information. There's also a list of recommended doctors from all over the world. A search engine adds to this comprehensive, well-designed, and easy-to-use site.—KMP
Web Guide Magazine's Rating for the Celiac Support Page (10 is the best):
| | |
| --- | --- |
| Content: | 10 |
| Design: | 8 |
| Navigability: | 10 |
| Links: | 10 |
---
NetGuide's Best of the Web - http://www.netguide.com/
Site Details Scott's Celiac Page
Provider: Scott Adams
Celiac (gluten intolerance) is a condition often misdiagnosed by doctors. Scott Adams was told he needed surgery before he discovered that simple dietary changes could save him the pain and discomfort of his "condition," and he wants to help others avoid the same hassles. He's succeeded admirably in putting the necessary information out there; his page is comprehensive and well-written. It's a must-use resource for anyone who has unexplained, possibly dietary-related health problems.
NetGuide's Rating for the Celiac Support Page (5 stars is the best):
| | |
| --- | --- |
| Overall Rating: | |
| Content: | |
| Design: | |
| Personality: | |
---
Mental Health Net - http://www.cmhc.com/
Scott's Celiac Page
Scott Adams
This is an informational notification to let you know that we have recently re-reviewed your Web site for inclusion in the Mental Health Net comprehensive Web database. I am happy to let you know that your site has been awarded a three-star rating on Mental Health Net, the largest review guide of mental health, psychology, and psychiatry resources online today. Mental Health Net is an Ohio not-for-profit organization devoted to mental health information and education resources online. A great page with information on this disease, diets, etc. Easy to navigate and read. Includes research information and many articles worth reading.
https://www.celiac.com/ - 7 May 1997 - TKS, and June 19, 1998 - JMG
Sincerely,
John M. Grohol, Psy.D.
Director
Mental Health Net
Mental Health Net's Rating for the Celiac Support Page (3 stars is the best):
MHN Rating:

Readers' Rating:
---
Argus Clearinghouse
Review of: Celiac Support Page - https://www.celiac.com/
Keywords: diseases, disorders
Compiled by: Scott Adams
Argus Clearinghouse 10/1997 Rating for the Celiac Support Page (5 checks is the best):

| | |
| --- | --- |
| Overall Rating: | |
| Resource Description: | |
| Resource Evaluation: | |
| Guide Design: | |
| Organization Schemes: | |
| Guide Meta-information: | |
---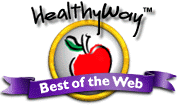 Celiac Support Page
https://www.celiac.com/
Overall Rating
Design & Graphics
Content Depth
Content Consistency
Navigation Ease
Return Appeal
Use of Medium

Target Audience: General Audience,
Contains: Causes, Signs & Symptoms, Diagnosis, Treatment, Medications, Advice, Support Group,
Keywords: celiac disease, gluten intolerance, lactose intolerance, dermatitis herpetiformis, nontropical sprue, celiac sprue, gluten intolerant enteropathy, gluten sensitive enteropathy, osteoporosis, tooth enamel defects, central nervous system disease, pancreatic disease, internal hemorrhaging, organ disorders, gall bladder, liver, spleen, gynecological disorders, amenorrhea, spontaneous abortion, infertility
---
Review: This Celiac Disease Web site is a thorough effort that can answer the most common questions about the condition. In addition to a long series of FAQs, it also offers articles on why gluten intolerance is on the rise, and what kind of treatments are available.
Articles here also explain the difference between allergy and intolerance, and identify both safe and dangerous foods. There are also listings of recipes, gluten-free suppliers, and the stores that sell them.
---
Pros: You will find a link to a celiac newsgroup here. An internal search engine makes finding your topics of interest easy.
Cons: An article on tax deductions for celiac sufferers may not apply to Canadian taxpayers.
Highlights: Make sure you haven't been misdiagnosed -- check out the list of diseases that celiac can be mistaken for.
---
Site presented by Scott Adams -
Site dated 3/31/97
Reviewed on 5/12/97