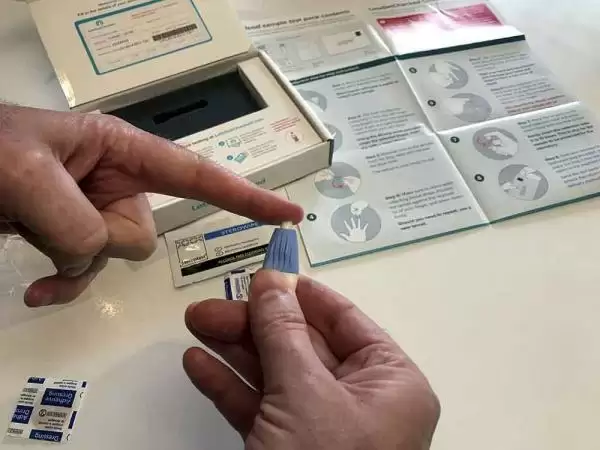 Celiac.com 08/31/2018 - Until recently the only way to get a proper screening for celiac disease would be to convince your doctor or health care provider to order the tests, and then pay a visit to the lab where they would draw a test tube or two full of blood. Depending on your situation, it can sometimes be difficult to convince your doctor or health care provider to actually order the tests. They can also be expensive, even if you are lucky enough to have decent health insurance coverage.
Did you know that you can now use a LetsGetChecked home screening kit to carry out a full celiac disease screening in the privacy of your own home?  I recently took the opportunity to use their kit to re-screen my son for celiac disease, as it's been a while since his last screening, and he should be getting screened annually.
---
Celiac.com Sponsor (A12):


---
The test kit arrived quickly, and upon opening it I found all the items necessary to collect a specimen, plus a very clear set of eight step-by-step instructions, complete with graphics, to make it super easy to follow. The kit requires "activation," which was done in just a few minutes on their Web site. The activation process allows the lab to connect you with your specimen, so that you can get your results via their Web site. 

After activating my kit we moved on to the specimen collection, which went far easier than I expected. The kit comes with a few lancets, and we used only one of them to painlessly prick my son's finger. We gathered around 8 or 9 drops of his blood to fill the collection tube. After snapping the lid on it, we put it in the addressed, stamped envelope and dropped it off at our local UPS Store.

A few days later I was surprised to get a call from a their medical team who took the time to go over my son's results with me over the phone—which, happily for my son—were negative! I also received an email with the results, and I was able to view them on their Web site as well.

Whether you want to save money, wish to have more privacy with your testing and results, or would like to get screened quickly—using LetsGetChecked kit to screen for celiac disease makes a lot of sense. I've already recommended it to several friends and family members, and believe that this is one of the best home test kits available, and will be a big part of the future of celiac disease screening.