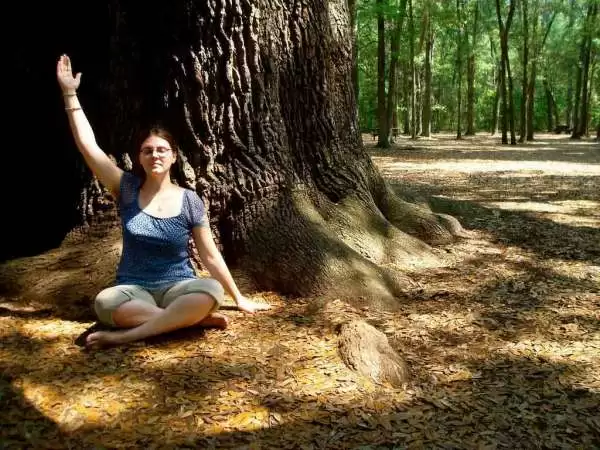 Caption: Meditation under the Angel Oak. Image: CC BY-SA 2.0--alisonleighlilly
Celiac.com 11/10/2020 - Around 1 in 100 people have celiac disease, making it one of the more common (yet under diagnosed) autoimmune disorders in the world. This illness can have a huge impact on a person's quality of life and often results in other detrimental knock-on effects, such as stress and anxiety. For those people who struggle with a chronic illness, invisible or otherwise, practicing meditation can offer huge rewards for both body and mind.
The Effects of Celiac Disease on Everyday Life
For those suffering from celiac disease, the effects of their illness can be uncomfortable at best and debilitating at worst. As opposed to gluten sensitivity, from which people may only experience more mild symptoms, celiac disease is an autoimmune disorder which can ultimately lead to malnutrition and other serious health problems. There is no known cure for celiac disease; instead, people must just try to follow a strict gluten-free diet to minimize the symptoms and prevent any long term complications.
---
Celiac.com Sponsor (A12):


---
---
Celiac.com Sponsor (A12-m):


---
The impact of this disease on daily life cannot be underestimated: those suffering with celiac disease can live in constant fear of food, with the continual need to check food labels and plan meals in advance, coupled with the perpetual worry of visiting restaurants with friends for fear of getting sick. All this can take an enormous strain on the person's health and wellbeing—not just physically of course, but also emotionally and mentally.

This isn't to say, of course, that people with celiac disease can't lead a happy and healthy life—they simply encounter more challenges in doing so. One such challenge is learning how to manage the stress and anxiety of living with a chronic condition, and protecting their wellbeing in a sustainable and holistic way.
The Link Between Celiac Disease and Stress
Stress, which has been classified as "the health epidemic of the 21st century" by the World Health Organization and can be experienced as a result of celiac disease, can actually contribute towards making an autoimmune disease even worse than it already is. It has long been established that stress is a key factor in the experience of many illnesses, and appears to have an especial impact on those with chronic conditions. 
This is because when we feel intensely stressed, we can experience symptoms that are extremely similar to the symptoms of celiac disease (such as fatigue and digestive issues), exacerbating an already difficult situation and triggering fear that we will suffer from a flare up. Some people even believe that their celiac disease was triggered by a stressful life event, such as divorce, and may find their body is less cooperative when they anxious and unhappy. 
This vicious cycle of stress, intensified symptoms and more stress can feel like an inevitable, exhausting loop which a person suffering with the disease may never see themselves breaking from. There is a way to help the situation though—through the practice of meditation.
How Can Meditation Help?
Meditation is an invaluable tool that can be used to help ease the stress of living with celiac disease. While there needs to be more research, some consider meditation to be a completely natural way to regulate our immune system (and evidence certainly does suggest it improves immune function). It also provides a wealth of other scientifically-backed health benefits, along with being hugely helpful in dealing with stress. 
We only need to practice for 20 minutes a day to be able to see the results, so long as we make the time to do so on a regular basis (every day is best). A simple mantra-based meditation we can try requires us to repeat the word "beeja' over and over in our minds whilst trying to quiet the noise of other thoughts. By focusing on this one word, we train our brain to connect the mind and body, and be present in the moment without worrying about other things happening in the past or future. 
The significant restorative effects of meditation can bring harmony between our body, mind and nervous system—thereby providing our body with the opportunity to reset and rest on a profound level. 
During meditation, our levels of rest and stillness are so deep that our brain is able to rewire itself to provide a more balanced and adaptive response to the challenges we face. Brain imaging technology suggests that just 3 months of meditation shrinks the amygdala (a.k.a the "stress center") and boosts our grey matter, making us both calmer and more mentally resilient. 
This is particularly beneficial for those suffering from the stress that living with a chronic condition can cause, as the 'fight and flight' response is no longer so easily triggered. The experience of stress, and the fear of flare ups, is a common issue for those living with celiac disease, so learning ways to dissipate stress naturally can be genuinely life-changing. 
Anecdotally, many people find meditation eases the symptoms of autoimmune disorders, and it is theorized that the time spent meditating (plus the relaxed state of being that follows a meditative session), soothes an over reactive immune response so our body is more able to distinguish the difference between what might harm us and what won't. 
Furthermore, if we can control stress through meditation, then we can certainly consider it as an anti-inflammatory exercise. Meditation using mantras can help us to manage our stress response, so that our immune system becomes less hyperactive, and has the potential to reduce symptoms of inflammation and discomfort.
Conclusion
If you suffer with an invisible chronic illness, such as celiac disease, then meditation can help you to remain naturally optimistic, and approach your physical and mental health with a practice that provides relief from stress, anxiety and depression—therefore equipping you with the tools to better cope with your autoimmune illness. 
Think of it as a self-care ritual—you can even just do it whilst you're waiting for the kettle to boil—and view it as a daily healing practice rather than a destination towards which you must strive. The journey will be well worth it.