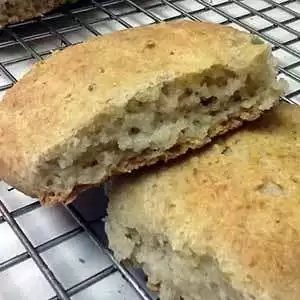 Caption: Photo: CC--GFDoctor
Celiac.com 12/28/2012 - Sourdough bread is made by a long fermentation of dough using naturally occurring yeasts and lactobacilli. Compared with regular breads, sourdough usually has a sour taste due to the lactic acid produced by the lactobacilli.
Sourdough fermentation helps improve bread quality by prolonging shelf life, increasing loaf volume, delaying staling, as well as by improving bread flavor and nutritional properties.
---
Celiac.com Sponsor (A12):


---
---
Celiac.com Sponsor (A12-m):


---
However, sourdough isn't just good for making better bread. Recent studies show that sourdough fermentation can also speed gut healing in people with celiac disease at the start of a gluten-free diet.

Over the past few years researchers have been experimenting with sourdough fermentation as a means for making traditional wheat bread safe for people with celiac disease. Recently, yet another study examined the safety of this process with great results.

"While the study was small, it did show that individuals with celiac disease who ate specially prepared sourdough wheat bread over the course of 60 days experienced no ill effects." Obviously, larger and more detailed studies need to be carried out, but the early results are intriguing.

In the meantime, sourdough bread made with gluten-free flours might be the best way for people with celiac disease and gluten-sensitivity to get the benefits of sourdough cultures, and to enjoy fresh, minimally processed bread.

Of course, not everyone can bake their own sourdough bread. That's why I was happy to learn that more artisanal bread bakers are turning to baking their own delicious gluten-free sourdough to share with others.

One of these small, artisanal bread makers is a local San Francisco baker named Sadie Scheffer, who runs a company called BreadSRSLY. Sadie bakes delicious long-fermented sourdough bread and other products, using gluten-free grains. She delivers most of her products by bicycle.

Having sampled Sadie's bread, and I can say that it is some of the best sourdough bread I've tasted, gluten-free or not. It isdelicious, dense, and chewy sourdough bread that is perfect for toasting. The loaves are fermented for twelve hours before baking. Folks in San Francisco can find Sadie's delicious gluten-free sourdough bread at BiRite, Gluten Free Grocery and Other Avenues, and at breadsrsly.com.

Until science establishes the safety of wheat-based sourdough for people with celiac disease, I think that long-fermented sourdough bread, made with gluten-free flour, represents the future of gluten-free bread for people with celiac disease and gluten-sensitivity.

Here's a recipe for gluten-free sourdough starter.

Other helpful links: