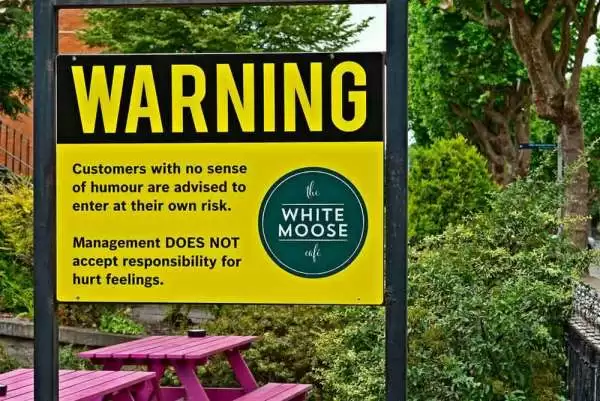 Caption: Warning sign at Dublin's White Moose Café. Image: Flickr
Celiac.com 06/27/2019 - A luxury hotel in Dublin has gleefully and publicly responded to a negative customer e-mail that criticized its cafe's snarky humor about gluten-free eaters.  The White Moose Café menu says that it will do whatever it can to accommodate those with an allergy to gluten, but encourages those with gluten intolerances to seek the help of "a good psychotherapist down the road."
The hotel took a similar stance on vegans, telling diners that "vegans will not be shot dead at point blank range if they have the decency to give us 24 hours notice of their arrival."
Responding to Mary's email in a Facebook post, Stenson wrote: "We're absolutely delighted that you won't be visiting us, as people who complain about light-hearted, satirical wording they read online that the vast majority of people find funny, will probably whinge and moan in person too."
Stenson thanked Mary for "sparing our staff of a negative, whining customer", adding that his employees will be "happier as a result, and happier staff will provide better service to the customers who actually matter."
Why all the bravado? Cafe owner, Paul Stenson says that the cafe "use the outrage of the public to gain publicity for the café, without spending a cent," the owner said. "Our social media presence filters out miserable people from people who don't take life too seriously, meaning the 35 seats in our café are occupied by pleasant people who don't whinge and moan incessantly."
Stenson closed by adding that Mary's celiac husband is welcome to eat at the hotel, and that he [Stenson] would happily prepare gluten-free food for him.  "But if you were 'appalled' by the wording on the website," he adds, "you'd have a f***ing heart attack if you ever came in".
The White Moose Café first gained fame in January 2018 for declaring a "ban" on social media influencers after a 22-year-old YouTuber asked for a free five-night stay at the hotel.
What do you think about the cafe's angle? Spot on? Over the top? Share your thoughts below.
Read more at the Independent.co.uk