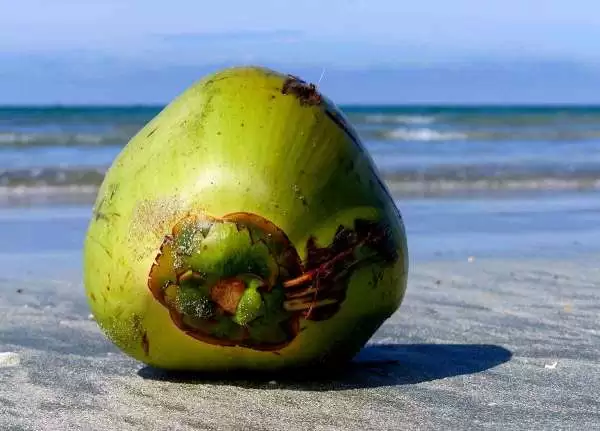 Caption: Image: CC0 1.0--Bernard Spragg
Celiac.com 01/26/2021 - We get a lot of questions from celiac community members wondering if certain products are gluten-free. One question we see a lot is about coconut water. Specifically, is coconut water gluten-free and safe for people with celiac disease?
The short answer is that, yes, unless gluten has been added to coconut water (which is unlikely), it is gluten-free and safe for people with celiac disease.
---
Celiac.com Sponsor (A12):


---
---
Celiac.com Sponsor (A12-m):


---
There are two kinds of coconut water, fresh and preserved. 

Fresh Coconut Water
Fresh coconut water is what you get when you cut open a coconut, pop in a straw and drink the water straight out of the coconut. Fresh coconut water is always naturally gluten-free, and contains no preservatives.

Preserved Coconut Water
Coconut water in a can, bottle or box, is just coconut water that has been removed from a coconut and put into a bottle, can or box, usually with some preservatives to extend shelf life. Such coconut water products are easier to ship, stock and drink than natural fresh coconut water. These products are also gluten-free, barring some unlikely addition of gluten. That said, celiac.com is unaware of any coconut water that contains added gluten.

That means that both fresh coconut water and preserved coconut water in a can, bottle, or box are gluten-free and safe for people with celiac disease.

As always, read labels, look for known allergens, and choose carefully.

Benefits of Coconut Water:

Better Hydration the Water
Coconut water contains natural electrolytes similar to those in sports recovery drinks. Compared to plain water, coconut water delivers higher levels of hydration levels in endurance athletes.

Improved Heart Health
Some studies also show that coconut water contains antioxidants, and may lower the risk of heart disease.

Lower Blood Sugar
Studies show that drinking coconut water can help lower blood sugar levels.

Prevention of Kidney Stones
Keeping hydrated, even with water, is crucial to preventing kidney stones. However, one study suggests that coconut water may help protect against kidney stones by preventing the clumping of the crystals that form kidney stones.

These are all great reasons for anyone to enjoy coconut water whenever you need to rehydrate, especially after athletic activity. Get for more information on the potential health benefits of coconut water at MSN.com.

Do you have a favorite brand of coconut water? Share it in the comments below.