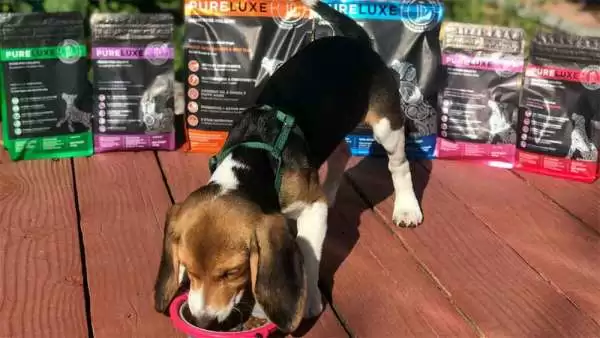 Caption: Image: Mei Adams
Celiac.com 11/09/2020 - There are many health experts, including some prominent doctors, who believe that humans should be grain-free, or at the very least gluten-free, because our digestive systems just weren't designed to deal with gluten. For the same reasons that humans should be concerned about whether or not they should consume gluten, it should never be fed to dogs. Dogs are carnivores, and their digestive systems just weren't designed to digest gluten, which, as most dog owners are now figuring out, can cause them a huge variety of negative, long-term health issues.
PureLUXE makes an exceptionally high quality line of gluten-free dog foods that are non-GMO, contain no fillers, sugars, chemicals or by-products, and are low-glycemic and include natural preservatives and Omega 3 Fatty Acids. I was simply blown away by the detailed nutritional and other information that was provided on each package, and by the ability to search the bag's code on their site and get a complete set of reports showing heavy metal testing, no chemical or synthetic preservatives, nutritional values, ethics, etc, contained in each individual batch of Pureluxe pet food.
---
Celiac.com Sponsor (A12):


---
---
Celiac.com Sponsor (A12-m):


---
They offer the following 5-Star Nutrition rated "Elite Nutrition" formulas which cover all breeds, sizes and ages:
Small Breed Dog – Made with Fresh Turkey
Adult Dog – Made with Lamb & Chickpeas
Adult Dog – Made with Salmon & Split Peas
Adult Dog – Made with Fresh Turkey
Healthy Weight/Senior Dog – Made with Salmon & Lentils
Healthy Activity Dog – for Puppies made with Turkey & Split peas
In addition to these great varieties of gluten-free dog food, PureLUXE also makes an equally outstanding assortment of high end gluten-free cat foods.
So, if you are a pet lover who wishes to give your dog or cat the very best nutrition available, you can't do better than PureLUXE pure nutrition for dogs (and cats)!
Visit their site for more info.