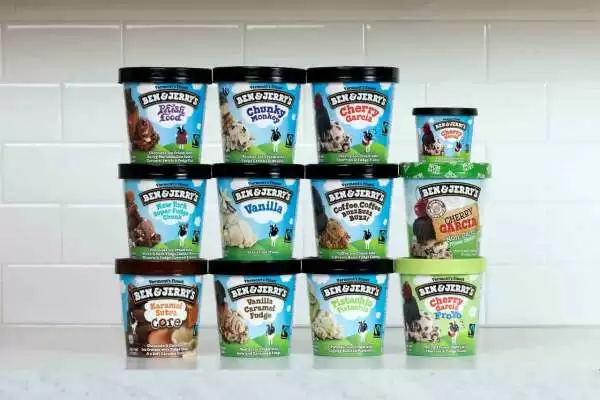 Caption: Certified gluten-free flavors. Image: Ben & Jerry's
Celiac.com 10/16/2020 - Ben & Jerry's ice cream company has announced certified gluten-free status for ten of its most popular ice cream flavors. These flavors will be available at stores nationwide. Even though most Ben & Jerry's ice cream flavors are made without gluten ingredients, and are safe for people with celiac disease or gluten-sensitivity, the company's new move goes the extra mile.
According to a company press release, Ben & Jerry's "didn't make any changes to the recipes...These flavors have always been gluten-free, but now we have the resources to do the rigorous testing required for certification, said Jody Eley, Ben & Jerry's innovation manager, in a press release."
---
Celiac.com Sponsor (A12):


---
---
Celiac.com Sponsor (A12-m):


---
Each of the new flavors comes with a new logo, along with a gluten-free certification from a major "Gluten Free Certification Agency." For people with celiac disease, or gluten sensitivity, Eley said, the gluten-free "certification can give them a little peace of mind."
Ben & Jerry's Ten Certified Gluten-Free Ice-Cream Flavors include:
Cherry Garcia
Chunky Monkey
Coffee, Coffee BuzzBuzzBuzz!
Karamel Sutra
More Cherry Garcia, including non-dairy, FroYo and mini-cup versions
New York Super Fudge Chunk
Phish Food
Pistachio, Pistachio
Vanilla
Vanilla Caramel Fudge
Ben & Jerry's plans to introduce more gluten-free flavors next year, but these flavors will be available exclusively in Scoop Shops. 
Ben & Jerry's Certified Gluten-Free Ice-Cream Flavors for Scoop Shop will include:
Butter Pecan
Chocolate
Chocolate Peanut Buttery Swirl
Coffee, Coffee BuzzBuzzBuzz!
Mint Chocolate Chunk
Oatmeal Cookie Chunk (with gluten-free oatmeal cookies)
Strawberry
Lemonade Stand Sorbet
Non-Dairy Cold Brew
Berry Berry Extraordinary Sorbet
Ben & Jerry's Gluten-Free ice cream flavors for Scoop Shop will be certified gluten-free at the time they ship from the factory, and they have been added to our list of gluten-free ice creams.
Due to cross-contamination risk Ben & Jerry's cannot certify their ice cream flavors as gluten-free once in Scoop Shops, but our Scoop Shop scoopers will gladly open a new tub as requested. 
 
Learn more at Ben & Jerry's