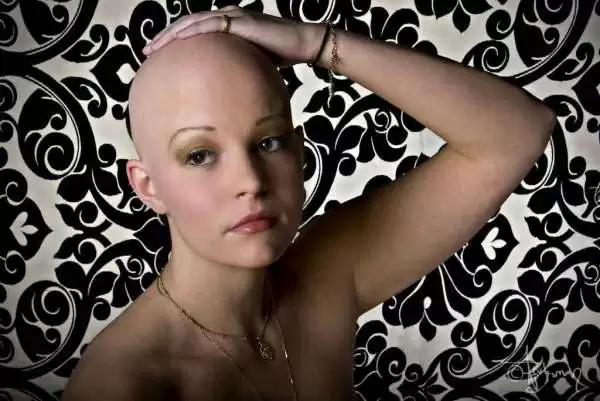 Caption: Image: CC BY-ND 2.0--arianne...
Celiac.com 09/08/2020 - Women with a type of hair loss called frontal fibrosing alopecia (FFA) have higher rates of autoimmune disease, estrogen deficiency, and thyroid hormone issues, compared with the general population.
The study included 711 female UK residents of Eurasian ancestry, and diagnosed with FFA. Women in the study group had scalp hair loss for an average of 7 years, and nearly 75% of those had frontotemporal hairline recession following menopause. More than 77% showed perifollicular erythema, more than 25% showed hyperkeratosis, while 26.0% also showed occipital recession. 
---
Celiac.com Sponsor (A12):


---
---
Celiac.com Sponsor (A12-m):


---
More than 90% of the women suffered eyebrow loss, while nearly 45% suffered eyelash loss. Hair loss on the limbs was also common, with nearly 78% of the cohort had limb hair loss, usually to the arms and legs, and nearly 70% had concomitant loss of axillary and/or pubic hair.

Nearly half of the study participants were taking prescription drugs to treat FFA. Of those, nearly 25% were taking hydroxychloroquine. Nearly twenty percent were taking topical corticosteroids, while ten percent were taking oral tetracycline antibiotics, or a range of other drugs, including topical calcineurin inhibitors (3.8%), intralesional steroids (1.7%), and oral corticosteroids (1.3%).

More than twenty percent of participants reported at least 1 comorbid autoimmune disease. Nearly 13% reported autoimmune thyroid disease, while 1.5% reported celiac disease, and 1.2% reported pernicious anemia.

In addition, 5.6% of women had a history of estrogen deficiency secondary to oophorectomy or primary ovarian insufficiency, and more than 70% of the women used an oral contraceptive pill for more than 6 months.

Though the study was limited by cross-sectional design, lack of a control group, and missing data for some clinical features, the findings "...accord with other epidemiological studies and the results of our genetic investigation, which implicated causal genetic variation related to antigen presentation and hormone/xenobiotic metabolism in FFA pathogenesis," stated the investigators.

The research team is calling for further study to determine the extent of the connection, and the potential implications for diagnosis and treatment.

Read more in the Br J Dermatol. doi: 10.1111/BJD.19399