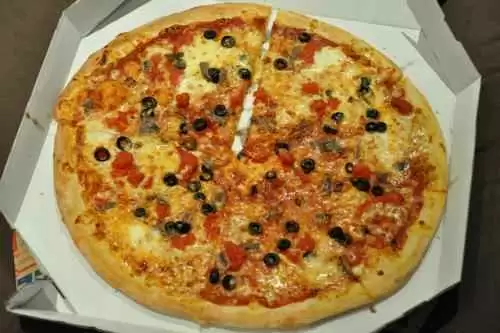 Caption: Image: CC--TAKA@P.P.R.S
Celiac.com 10/19/2017 - When I first saw the big advertisement that came through the mail I thought, "Wow, we are really getting somewhere!" However, when I read their advertisement my mind was quickly changed by what seems like false advertising.
It reads like a great deal of boasting, followed by the "disclaimer" (At the bottom. Who reads to the end of an advertisement?)
Here's the disclaimer:
"Domino's pizza made with a Gluten Free Crust is prepared in a common kitchen with the risk of gluten exposure. Therefore, Domino's DOES NOT recommend this pizza for customers with celiac disease. Customers with gluten sensitivities should exercise judgment in consuming this pizza."
If I hadn't read that disclaimer, I could have gone out that night and purchased a Domino's Gluten Free Pizza just to be able to try one of my favorite dishes.
ABC News had a brief visit with Domino's CEO, J Patrick Doyle, who said, "Offering Domino's Gluten Free Crust is a big step for us, and we wanted to make sure we were doing it right."
Well, you haven't done it right, Mr. Doyle, because celiacs cannot eat your pizza, and bless the person with gluten sensitivity who eats your pizza. Many celiacs suffer greatly after they have ingested gluten-containing flour. Even a few grains of gluten flour can cause abdominal pain, diarrhoea and bloating for days.
Doyle went on to explain their strategy for 'doing it right': "Domino's is doing that by partnering with experts at the NFCA and by empowering the gluten sensitive community with the information they need." [NFCA is the National Foundation for Celiac Awareness.]
Domino's new gluten free crust is available in stores across the U.S. in a small 10 inch size only, and prices vary by store. In Italics it says, "Domino's pizza made with a Gluten Free Crust is prepared in a common kitchen with the risk of gluten exposure. The National Foundation for Celiac Awareness supports the availability of Domino's Gluten Free Crust, but cannot recommend the pizza for customers with celiac disease. Customers with gluten sensitivities should exercise judgment in consuming this pizza."
Chat lines lit up with questions such as "What is Domino's relationship with the NFCA?". "Does Domino's offer a substitution for a gluten free crust?" The only substitution acceptable to us is a totally clean sweep of gluten in a kitchen. Baking bowls kept separate and a separate area for preparing and cooking the dough. Nothing else is acceptable.
One Post by Allison on May 7th states "You can't say it is gluten free and then say oh well celiacs can't eat it. Make no sense. Also if they truly worked diligently with the Celiac Foundation because they wanted to make a huge thing out of a gluten free pie the Foundation would have definitely said absolutely no cross contamination. The fact that there is , is not helping anyone with a gluten sensitivity." I could go on with the disappointed complaints from several chat lines, but I'm pleased to report that The Medical Office Assistant's Association was on the ball as of May 15, 2012. Their warning title states "Say what? Domino's offers 'gluten-free'crust not appropriate for celiac".
It wasn't long before the news travelled to the Penticton satellite and the West Kootenay Satellite (sub-chapters of the Canadian Celiac Association). The Medical Office Assistant's Association is not formed for people with celiac disease, but watches for health warnings and posts them to their chapters immediately. The Kelowna Chapter article, by David Fowler, states that "Meanwhile here in Canada, Boston Pizza figured out how to do it right and as a celiac I have enjoyed their gluten-free pizza many times without incident."
A poster from Ann Arbor, Michigan, on May 7, 2012, wrote a full page praising Domino's Gluten Free Crust. She quotes Domino's Pizza President and CEO as saying, "The prevalence of gluten sensitivity has become a real issue with significant impact on consumer choice, and we want to be a part of the solution. Now, the whole group can enjoy Domino's with the addition of our new Gluten Free Crust." She also quotes Alice Bast, NFCA founder and president as saying, "The NFCA is thrilled that Domino's Pizza has developed a product that will improve the quality of life for many of the estimated 18 million Americans who are gluten sensitive." Bast went on to say "Not only is Domino's Gluten Free Crust a huge win for much of the gluten free community who can now get pizza delivered to their door, and it's also delicious."
How can we eat the gluten free crust knowing that it was prepared in a common kitchen with the attendant risk of gluten contamination? Further, since a lot of students work at Domino's, how can we know whether they are being vigilant in their food preparation work? I don't know but I am going to check with David Fowler and see if Domino's here in Canada has actually 'gotten it right'. Being a celiac with dermatitis herpetiformis, I can tell if I have gotten some gluten within the first twenty-four hours. I am sure that many readers can also tell quickly if they have been 'glutened'.
I am also going to check out one Boston Pizza here in Canada just to check on David Fowler's report from the Kelowna Chapter on May 15, 2012. He, too, offers a disclaimer saying, "This article is my opinion only and does not necessarily reflect that of the Kelowna Chapter or the CCA."
I have just spoken with the managers of the Langley Boston Pizza Store and the Abbotsford Boston Pizza Store. Neither Store has heard of a Gluten Free Pizza Crust. One woman, a sub-manager, stated that the manager of their store had just had a meeting with the Boston Pizza people, but she thought it was about their super thin crust. She again reiterated she had never heard of a gluten free pizza coming to our area. So Kelowna, good for you! You may be the first city in Canada to carry gluten free pizza. But I am determined to check with other stores because I want to know whether their Gluten Free Pizza Crust is prepared in a gluten-free environment.
I will end with one chat line quote by Andrew on May 11, 2012: "What good is a gluten free pizza if it may come in contact with gluten? As a mom with three celiacs in the family, this is very disturbing and there is no way would I allow them to eat there. What a shame! Domino's, you need to get a clue!"