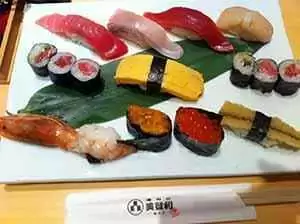 Caption: Photo: CC--pauldesu.com
Celiac.com 10/28/2013 - Meticulously picking apart menu items is not fun or convenient while enjoying a meal. At times, sticking to a gluten-free diet tends to result in unappetizing dishes and an unsatisfying experience. With a few alterations sushi is an excellent option for gluten-free dieting. Rice, fish, and vegetables contain simple, natural ingredients, and are gluten-free.

Consider the following list of safe and unsafe items for gluten-free consumption as a guide when ordering sushi. Treat the rolls listed as examples in identifying unsafe ingredients and how to alter them. Remember, gluten is sneaky and hidden among unsuspicious ingredients and food items.
---
Celiac.com Sponsor (A12):


---
Before Ordering
Always notify your server of dietary restrictions before ordering. Do not be afraid to speak up or feel like you're being a nuisance. Servers prefer taking an order once, no matter how precise, as opposed to having their customer fall ill.
Unsafe Items Commonly Found in Sushi
Soy sauce: Be wary of all sauces but soy sauce undoubtedly contains wheat ingredients and is not safe to eat.  Gluten-free soy sauce has increasingly become more available in restaurants. Ask your server if there is gluten-free soy sauce in the back.
Tempera: Fish or vegetable that has been battered and deep-fried.
Imitation Crab: This is not crab at all! It's processed fish parts that have been dyed orange, combined with food starch and flavorings, then frozen. Some restaurants are starting to indicate which items contain imitation crab. RA Sushi in Palm Beach Gardens, Florida has a disclaimer listed at the bottom of their menu.
Eel Sauce: home-made and traditional eel sauce is made from sugar, rice wine, and soy. Each restaurant varies with added ingredients in their sauces and extra precaution should be taken before eating them.  Ask the manager to find out if the sauce is safe.
Imitation Crab: This is essentially fish slush that has been processed, frozen, and dyed. It is not gluten-free.
Teriyaki: Another unsafe wheat-containing sauce.
Ponzu Sauce: contains soy sauce and is not gluten-free.
Spicy: spicy tuna or any fish mix usually contains mayonnaise, which is not always gluten-free. Most contain unsafe sauces.
Wasabi: In its original form is a root taken from a rare plant primarily grown in Japan. The wasabi served in restaurants is most always horseradish, mustard, and coloring, and it can be mixed with corn starch or wheat flour.  Mustard is not always gluten-free and neither is "coloring."
Unsafe key words:
Crab, sauce, spicy, mayo, tempura, mixed, marinated, creamy, soy, dressing, crispy, wasabi.
Safe Ingredients Commonly Found in Sushi
Lobok: A Chinese radish that is used when a recipe calls for Daikon radish. Unless fried or cooked in sauce, this is a safe item.
Masago/Tobiko: These are the little eggs on top of the sushi. Masago is the inexpensive rendition of tobiko. Masago is usually dyed to give a more appealing appearance and should be used as a garnish rather than the main ingredient of the roll. Some versions of this can contain soy sauce, so avoid it if you are not sure.
Sushi Rice is gluten-free. It is up to the discretion of the individual with the intolerance whether or not to consume grains. Some feel fine after eating white rice while others do not.
Fish: that has NOT been covered in sauce or has been fried is safe.
King Crab: NOT imitation crab.
Nori: Another name for seaweed paper and is gluten-free.
Vegetables: sushi is usually prepared with avocados, cucumbers, carrots, and other vegetables. Be certain no contamination has occurred from unsafe sauces.
Sample Rolls
The Rainbow and California Rolls are tasty go-to options. A rainbow Roll is a California roll with sashimi (raw fish) on top. These traditional rolls are gluten-free with a few modifications:
A selection of fish, usually halibut, tuna, salmon, and yellowtail are placed on top of the roll. The inside of the roll contains imitation crab, which needs to be replaced. Ask your server to swap the crab out for avocado. For a California roll, swap the crab out for a piece of fish to your liking.
RA Sushi lists a "King Crab Roll" on their menu. It contains: king crab mix, cucumber, avocado rolled and topped with king crab; served with an Asian Pesto sauce. The king crab mix needs to be removed. Ask the server if the mix could be replaced with plain king crab- not imitation and not mixed with any mayonnaise, sauce, etc. The king crab on top needs to be confirmed that it is whole king crab. Replace the Asian pesto sauce with a bit of gluten-free soy sauce. If none is available, squeeze a bit of lemon on the roll for flavor.
Also, stick with simple rolls such as the tuna and vegetarian rolls. Always double check to make sure there are no added ingredients! For instance, RA sushi added wasabi in their tuna roll. Ask the server to add tuna to your vegetable roll for some extra sustenance.
Get Creative
Order some kiwi on the side and place it on top of your roll. This adds sweetness and texture and is completely safe. There is no end to the alterations you can make with sushi. Learn how to make sushi and create renditions of your favorite recipes at home as well!
Sources: