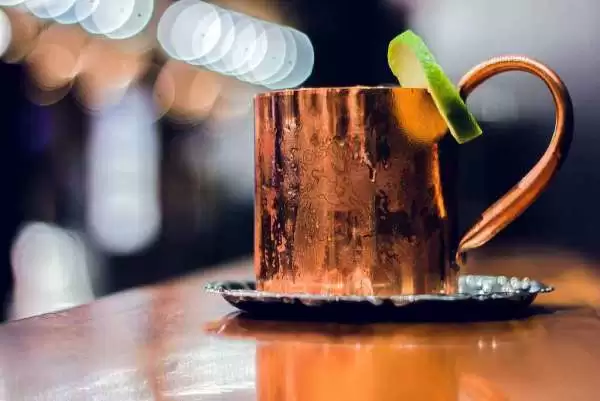 Caption: Moscow Mule cocktail. Image: CC BY 2.0--Wine Dharma
Celiac.com 11/24/2020 - We get more than a few questions about beer. One question we see a lot is about ginger beer. Specifically, is ginger beer gluten-free, and safe for people with celiac disease? 
Ginger beer is a popular cocktail mixer, and a key ingredient in the currently popular Moscow Mule cocktail. Perhaps because of the word 'beer' in the name, many people with celiac disease wonder if ginger beer gluten-free and safe for people with celiac disease to consume.
---
Celiac.com Sponsor (A12):


---
---
Celiac.com Sponsor (A12-m):


---
The answer is that most all true ginger beer is naturally gluten-free. That said, there are plenty of imposters, so read labels and beware. True ginger beer made with sugar, ginger and water. That's it. So you can rest easy when you add vodka and lime juice for that Moscow Mule. 

Oh, and more good news about that vodka. The FDA and the U.S. Alcohol and Tobacco Tax and Trade Bureau (TTB) have issued new rules that allow gluten-free labeling on all distilled spirits. That means Manufacturers of distilled foods and beverages can now label their products as gluten-free, even if made from gluten ingredients. You can enjoy that Moscow Mule with a clean conscience. As always, listen you your gut. If something doesn't seem to work for you, even if it's labeled gluten-free, then avoid it. 

Click here for questions about gluten-removed, and gluten-free beers.