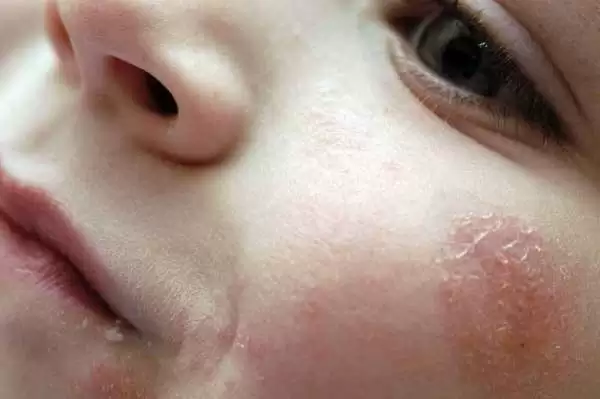 Caption: Image: CC BY-SA 2.0--Niels_Olson
Celiac.com 10/06/2020 - One question we get often is about celiac disease and rashes. Specifically, is it common for people with celiac disease to have a rash? 
Skin rash alone is not a specific symptom of celiac disease. However, people with celiac disease can have higher rates of certain skin conditions that can cause rashes. Rashes are also not commonly in the top ten complaints of people with celiac disease. 
---
Celiac.com Sponsor (A12):


---
---
Celiac.com Sponsor (A12-m):


---
However, these seven common skin conditions are associated with celiac disease: Acne; Canker Sores (Aphthous Stomatitis); Dermatitis Herpetiformis; Dry Skin; Eczema; Psoriasis; and Rosacea.
Dermatitis Herpetiformis (DH) is Common Cause of Skin Rash in Celiac Patients
Dermatitis herpetiformis (DH) is a common extraintestinal manifestation of celiac disease, marked by itchy papules and vesicles on the elbows, knees, and buttocks. Dermatitis herpetiformis is a common in people with celiac disease, and is one immediate suspect for anyone with celiac disease who develops a rash. 
About 1 out of 8, or about 12 percent of people with celiac disease will also have Dermatitis Herpetiformis (DH). In fact, DH is now regarded as external manifestation of celiac disease in the skin.
It is also possible for people to have DH and not have celiac disease, but everyone with DH should be screened for celiac disease. The good news is that most people with DH see significant improvement on a gluten-free diet. Moreover, patients with refractory DH see major gut improvement on a gluten-free diet.
Some patients with celiac disease have complained of hives, but hives are not common in celiac patients. There have also been studies to show that six out of sixty patients (10%) with Non-Celiac Wheat Sensitivity (NCWS) suffered from contact dermatitis and nickel allergy, double the 5% rate seen in the control group.
DH, Eczema & Psoriasis Often Improve with Gluten-Free Diet
Other conditions that can cause skin rashes in celiacs (and non-celiacs) include eczema and psoriasis.
As with DH, a gluten-free diet is becoming a more common treatment for eczema.  People who are gluten intolerant also tend to have more advanced psoriasis. Like eczema, many people with psoriasis improve when patients follow a gluten-free diet. 
Herpes Zoster or Shingles and Celiac Disease
People with celiac disease have a slightly higher risk of developing shingles (herpes zoster), which could also be triggered by a COVID-19 infection.
Again, a rash all by itself is not a sign of celiac disease. However, if you have a rash associated with one of the above conditions AND you have celiac symptoms, such as nausea, vomiting, stomach upset, then you might want to consult a doctor about celiac disease.