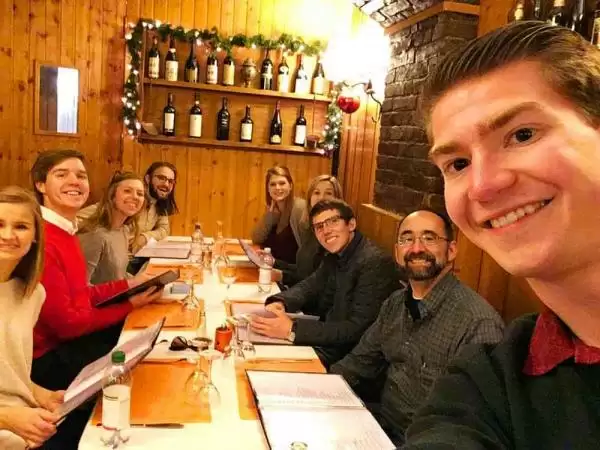 Caption: Image: CC--Andy Montgomery
Celiac.com 03/08/2019 - How many times have you gone out to dinner and tried to find a gluten-free meal that wouldn't make you sick? How many times have you eaten that gluten-free meal, only to think, "gee, I wouldn't feed this to my dog?"

This leads to the question, do restaurants that serve gluten-free menu items taste test their offerings? If not, why not? Why do they think that people with gluten-intolerance or celiac disease want to eat cardboard? These and other questions continue to baffle me.

There are a few things that restaurants could do better. The gluten-free wave is sweeping the nation. Restaurants need to learn how to swim, or be swept away with the tide. These are some of my pet peeves when it comes to dining out gluten-free.
Running out of gluten free items, such as hamburger rolls or bread
It is really easy to buy really good packaged gluten-free hamburger buns or bread. How many times have you been told that the only gluten-free offering is a lettuce wrap? Really? If I want to eat salad, I will order salad!
Offering inedible gluten-free items
Have you ever had a really awful gluten-free muffin in a restaurant, or for that matter, on a cruise ship? I am sure that if the kitchen staff tried these stale pieces of sawdust, they would not want to eat them. Why do they think someone with celiac disease or gluten-intolerance would?
Trying and Failing to do it themselves (especially with dessert)
Believe me, I really do appreciate the effort a chef makes to give me a gluten-free dessert other than sorbet or a fruit plate. I had a wonderful experience on a cruise a few years ago. The chef attempted to make me a gluten and dairy free cake (I am also dairy intolerant). It was really great. Unfortunately, they waited until the last night of the cruise, and I could only eat one piece of it. But I have to admit, by that time I was really tired of eating fruit plates. It's not that difficult to buy a ready made gluten-free cake, cookie or muffin mix and give us some options.
Removing the "offending" gluten-free items until there's nothing left
How many times have you ordered a wonderful sounding dish, only to receive a pale, gluten-free comparison? Believe me, before I go out to eat, I study the allergen menu really closely and try to find something that will not be entirely ruined if it is made gluten-free. I am not always successful.
Sometimes the chef goes overboard in the interest of caution, and removes everything that could "possibly" contain anything remotely containing gluten. What I get is a tasteless shadow of the original dish, and resounding disappointment.
I don't order certain items, like crab cakes, because even though gluten-free breadcrumbs actually exist, it wouldn't occur to the chef to try to use them.
Improperly trained staff
I am sure you have all seen the eye-roll and the deer in the headlights look of waitstaff who panic, or sneer at the mere mention that you are gluten-free. Nor do they have a clue about menu items that might contain gluten. It might be obvious to those of us who live this life everyday, but the waitstaff and kitchen staff don't seem to know.
It is imperative that waitstaff and kitchen staff know what contains gluten, and what does not. I can't even count how many times I have gotten sick because I was told something was "fine".
Cross-contamination with gluten-containing foods
If you think your restaurant has a dedicated area to handle your gluten-free meal, you might be sadly mistaken. Using the same fryer, using the same pasta water, using the same utensils; these are just some of the things that are going on in the kitchen.
It is far easier for a busy kitchen staff to take shortcuts than to properly prepare a gluten-free meal. I have also noticed that the attention to detail goes up with the price-tag of the meal in question. You are likely to get more attention in a fine-dining restaurant than in a small mom and pop owned one. Of course, there are exceptions to this rule. You are also more likely to get "glutened" on a busy night, as opposed to a slow one.
In Conclusion
I know in my heart that as the numbers of gluten-intolerant diners grows, so will the improvement of our collective dining experience. My love for dining out has waned since I became gluten-intolerant. I find I can make better food at home. I know this is not an option for everyone. But why should gluten-free be a tradeoff?