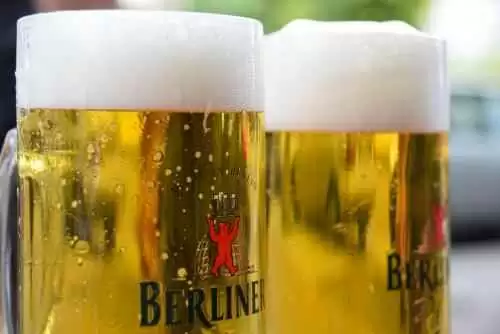 Caption: Gluten-free beers are more popular then ever this Oktoberfest. Photo: CC--Maria Eklind
Celiac.com 10/14/2016 - It's almost October, and that means beer, or, at least it means Oktoberfest is near. And in so many ways, gluten-free beer lovers have never had it better, with dozens of selections now available commercially, and more on the way every month, it seems.
So grab a beer, and celebrate Oktoberfest. But before we get to the list of beer purveyors, let's quickly review some basics of gluten-free versus gluten removed.
---
Celiac.com Sponsor (A12):


---
---
Celiac.com Sponsor (A12-m):


---
Naturally Gluten-free Beers—Naturally gluten-free beers are made with all gluten-free source ingredients, and use grains like sorghum instead of barley. This is important to many people, especially those with high sensitivity, or the belief that gluten-removed beers may trigger celiac-related problems.
Pros: Guaranteed gluten-free from start to finish. As close to 100% gluten-free final product as it gets.
Cons: Beers made without barley can taste tart, or have a shallow flavor profile. Aren't considered beer under German standards.
Gluten-removed beers—Use traditional source ingredients like barley to brew beer traditionally, then use various enzyme processes to break down the gluten.
Pros: Traditional source ingredients. Traditional beer flavor. Test under 20 ppm gluten. Can be labeled as beer according to German purity laws.
Cons: While many people with celiac disease seem to be able to tolerate gluten-removed beers, many claim that these beers trigger adverse symptoms. The jury is still out on whether gluten-reduced beers are safe for people with celiac disease.
From a purely technical standpoint, beers brewed from all gluten-free source ingredients cannot be called beer in Germany, due to strict labeling laws in effect since the 14th century.
The standard set by the FDA for gluten-free labeling in the United States requires that products be made with gluten-free ingredients, and must contain less than 20ppm of gluten.
The standard set in Europe allows manufacturers to use gluten, rye, or barley in the manufacturing process, so long as the final product tests below 20 ppm gluten.
Many European beers follow that method, and use wheat and or barley to brew their gluten-free beers. The beers are then treated with enzymes to break down and filter out any gluten. The result is a beer that looks and tastes like a traditional beer, but which is also gluten-free, according to the European labeling standard.
A List of Naturally Gluten-free Beers
Anheuser-Busch Redbridge
Bard's Gold
Bard's Tale Beer
Brasserie Dupont Forêt Libre
Brasseurs Sans Gluten Glutenberg Blanche
Brunehaut Bio Ambrée
Brunehaut Blonde Bio
Brunehaut Blanche
Burning Brothers Brewing
Coors Peak
Dogfish Head Craft Brewed Ales: Tweason'ale
Drummond Gluten Free
Epic Brewing Company: Glutenator
Ghostfish Brewery
Glutenberg American Pale Ale
Glutenberg Blonde
Glutenberg Belgian Double
Glutenberg India Pale Ale
Glutenberg Rousse
Green's Discovery Amber Ale
Green's Endeavour
Green's Enterprise Dry-Hopped Lager
Green's India Pale Ale
Green's Quest Tripel Blonde Ale
Ground Breaker Corsa Rose Gold Ale
Ground Breaker IPA No. 5
Ground Breaker Dark Ale
Ipswich Ale Brewery: Celia Saison
Joseph James Brewing Fox Tail
Lakefront New Grist Ginger Style Ale
Lakefront New Grist Pilsner Style
Minhas Lazy Mutt Gluten Free
Mongozo Premium Pilsener
New Planet Belgian Style Ale
New Planet Blonde Ale
New Planet Pale Ale
New Planet Raspberry Ale
New Planet Seclusion IPA
New Planet Tread Lightly Session Ale
Nickel Brook Gluten Free
Nouvelle France La Messagère
Nouvelle-France Messagère Aux Fruits
Nouvelle-France Messagère Red Ale
Schnitzer Bräu Hirse Lemon
Schnitzer Bräu Hirse Premium
Sprecher Brewing Company's Shakparo Ale
Steadfast Beer gluten-free Blonde and Pale Ales
Steadfast Beer Company's Oatmeal Cream Stout
To Øl Reparationsbajer Gluten Free
Whistler Forager
A List of Gluten-Removed Beers
Alley Kat Scona Gold Kölsch
Brunehaut Bio Tripel
Estrella Damm Daura
Estrella Damm Daura Marzen
Lammsbräu Glutenfrei Lager Beer
Mikkeller American Dream Gluten Free
Mikkeller Green Gold Gluten Free
Mikkeller I Wish Gluten Free IPA
Mikkeller Peter, Pale And Mary Gluten Free
New Belgium Glutiny brand Golden and Pale Ales
Short's Brewing Space Rock
Stone Delicious IPA
Sufferfest Brewing Company Pale Ale and Lager
Widmer Omission Lager
Widmer Omission IPA
Widmer Omission Pale Ale
Wold Top Against The Grain
Wold Top Marmalade Porter
Wold Top Scarborough Fair IPA
Resources: