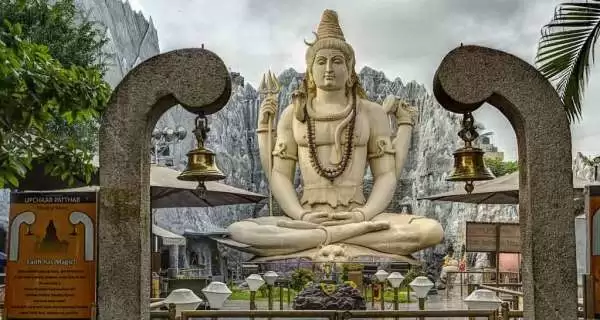 Caption: Healing Stone at the Shiva Temple. Image: CC BY 2.0--AJ Photographic Art
Celiac.com 10/01/2020 - People with celiac disease, even those on a long-term gluten-free diet, with healed mucosa and no obvious gut damage, still show signs of ongoing disease at the molecular level, and may not be "healthy," according to the results of a new study. 
In these people, a gluten challenge will trigger hyperactive Wnt-signaling, and leave a clear, secretory cell type signature. This makes gluten challenge studies important for uncovering the mechanisms that drive celiac disease. 
---
Celiac.com Sponsor (A12):


---
---
Celiac.com Sponsor (A12-m):


---
A team of researchers recently set out to reveal early gluten-induced transcriptomic changes in duodenal biopsies and to find tools clinics can use to measure the level of intestinal injury to celiac patients. Molecular histomorphometry might be one such tool. 

The research team included Valeriia Dotsenko, Mikko Oittinen, Juha Taavela, Alina Popp, Markku Peräaho, Synnöve Staff, Jani Sarin, Francisco Leon, Jorma Isola, Markku Mäki, and Keijo Viiri.

For their study, the team collected duodenal biopsies from 15 celiac disease patients on a strict long-term gluten-free diet (GFD) prior to and post gluten challenge (PGC) and from 6 healthy control individuals (DC). They conducted morphometric analysis on each biopsy, and put biopsy RNA through genomewide 3' RNA-Sequencing. 

They used the sequencing data to find differences among the three groups, and to compare against sequencing data from the public sources. The team's gluten challenge trial gave them a way to study the transition from good health to celiac disease. 

When the team compared the gluten-free group with the healthy control group, they found 167 differentially expressed genes, 117 of which were upregulated.  A comparison of the prior-post-gluten challenge vs. gluten-free groups showed 417 differentially expressed genes, with 195 genes downregulated and 222 genes upregulated. 

Their results show that even gluten-free, seemingly healthy celiac patients reveal patterns of ongoing disease on the molecular level. Meaning that even seemingly healthy celiacs on a gluten-free diet were not "healthy". 

What the results of this small study mean for the ongoing treatment and management of celiac disease remains unclear, as do the health implications for celiacs. Certainly, the idea that molecular damage may be ongoing in healthy, gluten-free celiacs is a bit concerning, at the very least. Further follow-up of people with celiac disease might be warranted, to assess any ongoing damage. Also, is this molecular damage related to ongoing, even low-level, gluten-exposure? The data invite many questions.

Further study will help to shed some important light on this subject. Stay tuned for more on the ongoing health and wellness challenges faced by people with celiac disease. 

Read more in Cell Mol Gastroenterol Hepatol 2020

 

The researchers are variously affiliated with the Faculty of Medicine and Health Technology, Tampere University Hospital, Tampere University Tampere, Finland; the Department of Internal Medicine, Central Finland Central Hospital, Jyväskylä, Finland; the Carol Davila University of Medicine and Pharmacy; the Alessandrescu-Rusescu National Institute for Mother and Child Health, Bucharest, Romania; the Department of Obstetrics and Gynecology and Tays Cancer Centre, Faculty of Medicine and Health Technology, Tampere University Hospital, Tampere University, Tampere, Finland; the Laboratory of Cancer Biology, Faculty of Medicine and Health Technology, Tampere University in Tampere, Finland; Jilab Inc, in Tampere, Finland; and Celimmune LLC, Bethesda, Maryland.