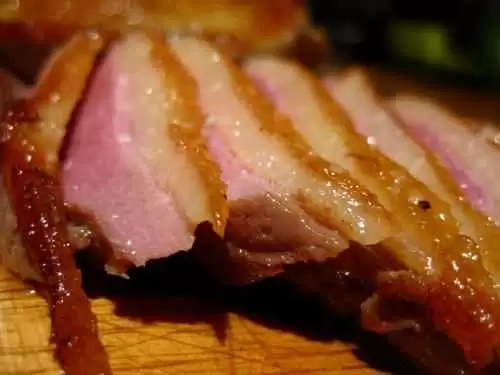 Caption: Crispy Roast Duck Breast with Pineapple and Apricot. Photo: Timothy Vollmer
Want to make an easy, but memorable dinner that will be as romantic as it is delicious? Then this tasty roast duck is just the ticket. In many parts of the world, Europe and Asia especially, it's quite common to eat duck. This recipe will blends white wine with fresh apricots and pineapple to create a delicious sauce that is perfect for this nicely roasted duck.
Ingredients:
1 large duck breast
1 pound parsnips
1 cups chicken broth
3 teaspoon olive oil
½ small red onion
½ cups dry white wine
¼ cups fresh apricots
¼ cups chopped pineapple (canned okay, drained)
1 tabelspoon apricot jam
1 tablespoon red wine vinegar
Chopped flat leaf parsley
---
Celiac.com Sponsor (A12):


---
---
Celiac.com Sponsor (A12-m):


---
Directions:
Heat oven to 400 degrees F. Line small jelly-roll pan with foil.

Place duck on cutting board. Cover with plastic wrap. Use a meat mallet to pound breast to 1-inch thickness.

Use a knife to score the breast with ¼-inch-deep cuts diagonally across skin side, about ½ inch apart. Make another set of cuts to create diamond pattern.

In a medium sauce pot, heat parsnips and broth to simmering on medium-high. Reduce heat to medium. Partially cover and simmer until very tender, about 15 minutes.

In a skillet, heat 1 teaspoon oil on medium. Sprinkle duck with ¼ teaspoon each salt and pepper to season both sides. Add duck to skillet, skin side down. Cook 5 minutes or until crisp and browned. Turn over. Cook another 2 minutes or until browned.

Transfer to prepared pan, skin side up. Roast 5 to 7 minutes or until desired doneness (145 degrees F for medium). Transfer to clean cutting board and loosely tent with foil.

Drain all but 1 teaspoon fat from skillet. Add onion to skillet.

Cook on medium 2 minutes or until browned, stirring frequently.

Add wine pineapple and apricots. Cook 2 minutes or until wine is reduced by about half.

Stir in jam, vinegar, and â…› teaspoon each salt and pepper. Cook 1 minute or until jam is melted, stirring frequently. Remove from heat.

With slotted spoon, transfer cooked parsnips to food processor along with ¼ cup cooking liquid, remaining 2 teaspoons oil, and â…› teaspoon salt. Pulse just until smooth.

Divide parsnips between 2 serving plates. Thinly slice duck breast; arrange duck on top of parsnips. Top with apricot sauce and garnish with parsley, if desired.