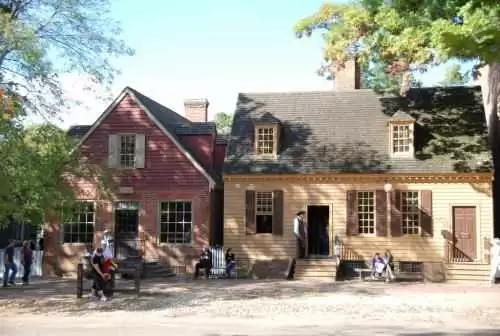 Caption: Colonial Williamsburg. Photo: Joe Ross
Celiac.com 08/16/2017 - Colonial Williamsburg prides itself on educating both children and adults in the rich history of life in colonial America. That's why claims that Colonial Williamsburg kicked an 11-year-old boy on a school field trip out of one of its restaurants earlier this year are drawing attention and sharp comment.
The incident happened May 11, during a field trip for about 30 students and 30 adults. The trip, which included a meal at Shields Tavern, was the culmination of a yearlong research project.
---
Celiac.com Sponsor (A12):


---
---
Celiac.com Sponsor (A12-m):


---
The boy, identified in court documents only as "J.D.," suffers from a medical condition that prevents him from eating the same food as his classmates, and the restaurant's policy specifically forbids outside food. The lawsuit claims that, even after a teacher tried to persuade the manager to let him stay, the manager forced J.D. out of the restaurant, where he ate his lunch in the rain.

"J.D. was crying openly as he was removed from Shields Tavern in front of his peers," the lawsuit said. In speaking with management, the teacher learned that the restaurant "permits toddlers to eat outside food, including goldfish and Lunchables inside the restaurant."

When J.D. eats gluten, he experiences "precipitous drops in blood pressure that result in him losing consciousness," the lawsuit said. "Doctors haven't determined whether it is celiac disease or a "Non-Celiac Gluten Sensitivity," but multiple specialists at Johns Hopkins have concluded that it is critical J.D. not ingest gluten, even in trace amounts," the suit said.

"Before his exclusion, J.D. was able to participate fully with his peers with confidence," the suit said. "After his exclusion and because of Defendant's callous and discriminatory conduct, J.D. felt less worthy than other children and embarrassed by his disability."

The family's attorney, Mary Vargas, said in a statement that "Children with disabilities that require strict adherence to special diets often find themselves on the outside of school parties and social events, but here this child was quite literally removed to the outside in a way that left him feeling humiliated and unworthy."

She goes on to call the actions by Williamsburg's management "…despicable behavior by any adult but especially by an organization that professes to offer educational programming for children."

The lawsuit seeks unspecified damages and attorney fees, as well as changes to how Colonial Williamsburg handles people with disabilities.

The Colonial Williamsburg foundation has declined to comment on the suit.

Source: