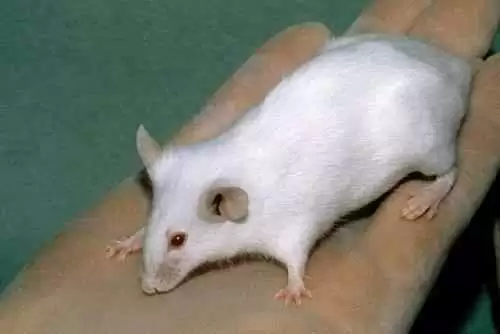 Caption: Lab mice are proving helpful in the search for a cure to celiac disease. Photo: National Cancer Institute
Celiac.com 01/18/2016 - How come only 2% to 5% of genetically susceptible individuals develop celiac disease?

Researchers attempting to answer that question have turned their focus to environmental factors, including gut microorganisms, that may contribute to the development of celiac disease.
Their data show that the rise in overall celiac disease rates over the last 50 years may be driven, at least partly, by variations in gut microbiota. If this proves to be true, then doctors may be able to craft "specific microbiota-based therapies" that "aid in the prevention or treatment of celiac disease in subjects with moderate genetic risk," says lead investigator Elena F. Verdu, MD, PhD, Associate Professor, Division of Gastroenterology, Department of Medicine, Farncombe Family Digestive Health Research Institute, McMaster University, Hamilton, ON (Canada).
For their study, the team used mice that express the human DQ8 gene, which makes them genetically susceptible to inflammatory responses to gluten, researchers compared immune responses and pathology in the guts of mice that differed in their gut microorganisms.
The three groups included germ-free mice, clean–specific-pathogen-free (SPF) mice with microbiota free of opportunistic pathogens and Proteobacteria, and conventional SPF mice that were colonized with a mixture of microorganisms including opportunistic pathogens and Proteobacteria.
For example, the microbial profile of conventional SPF mice included Staphylococcus, Streptococcus, and Helicobacter, while the clean SPF had none. Researchers already know that growth and activation of intraepithelial lymphocytes (IELs) is an early sign of celiac disease.
This research team saw that gluten treatment led to increased IEL counts in germ-free mice, but not in clean SPF mice. The gluten-induced IEL response in germ-free mice was accompanied by increased cell death in the cells lining the gastrointestinal tract (enterocytes), as well as anatomical changes in the villi lining the small intestine.
The germ-free mice also developed antibodies to a component of gluten, known as gliadin, and displayed pro-inflammatory gliadin-specific T-cell responses. A non-gluten protein, zein, did not affect IEL counts, indicating that the response was gluten specific. Meanwhile, the mice colonized with limited opportunistic bacteria (clean SPF), did not develop gluten-induced pathology, compared to germ-free mice or conventional SPF mice with a more diverse microbiota.
Interestingly, this protection was suppressed when clean SPF mice were supplemented with an enteroadherent E. coli isolated from a patient with celiac disease. These results are preliminary, and other researchers stress that the specific role of Proteobacteria in celiac disease should not be over interpreted.
In an accompanying Commentary, Robin G. Lorenz, MD, PhD, of the Department of Pathology at the University of Alabama at Birmingham, writes that these findings "implicate opportunistic pathogens belonging to the Proteobacteria phylum in celiac disease; however, this does not indicate that Proteobacteria cause celiac disease."
Instead, Dr. Lorenz suggests, there may be numerous possible avenues by which Proteobacteria enhance the exposure and immune response to gluten or gliadin.
So, the takeaway here is that, while these early results are highly interesting and certainly merit follow-up, it's way too early to say that certain types of gut bacteria may be driving celiac disease, and any types of bacterial treatments that might prevent celiac disease from developing are just the stuff of imagination.
Still, this is an important discovery that might pave the way for exactly such types of therapy in the future, so stay tuned.
Source: