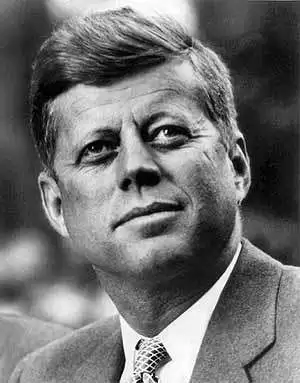 Celiac.com 02/23/2008 - This week it was revealed that scores of previously unknown files and boxes of other materials pertaining to JFK, Lee Harvey Oswald and Jack Ruby have been discovered in the Dallas County Courthouse.  Conspiracy theorists and historians will be particularly eager to have access to these materials, and the life and death of our 35th president will once again be examined in great detail.

The reason I mention this news item here is that in the course of my research for my upcoming book on living with celiac disease, I read an article by Columbia University's Dr. Peter H.R. Green in which he chronicled the many illnesses of President Kennedy.  Apparently, he suffered from severe and painful medical problems that began in his childhood.  Dr. Green writes,

"In Kennedy's adolescence, gastrointestinal symptoms, weight and growth problems as well as fatigue were described. Later in life, he suffered from abdominal pain, diarrhea, weight loss, osteoporosis, migraine and Addison's disease. Chronic back problems, due to osteoporosis resulted in several operations and required medications for chronic pain. He was extensively evaluated in major medical centers including the Mayo Clinic and hospitals in Boston, New Haven and New York. Among the multiple diagnoses were ulcers, colitis, spastic colitis, irritable bowel syndrome, and food allergies. His medications included corticosteroids, antispasmotics, Metamucil and Lomotil. However it is not clear that his physicians obtained a definitive diagnosis. Review of this medical history raises the possibility that JFK had celiac disease."

Wow.  That gives one pause, doesn't it?  Imagine that this president -- who had access to the finest physicians of the day -- might have suffered from a disease that could have been relieved by a simple change in diet if only the diagnosis had been made, let alone considered.  Don't you feel lucky that your physicians have access to modern medical knowledge which has only understood as recently as 2003 that over 3 million Americans suffer from celiac disease?

We are indeed fortunate to live in a time with researchers like Dr. Alessio Fasano at the University of Maryland's Center for Celiac Research, whose studies have put celiac disease on the radar screen of physicians from around the world.  We can still do more to educate doctors and others about celiac disease so that no one has to suffer needlessly with incorrect diagnoses.

To help fund these efforts, please go to www.celiacwalk.org to register, donate, sponsor a participant or learn more about the University of Maryland's 7th Annual INTERNATIONAL Run/Walk for Celiac Disease on Sunday, May 4, 2008.

Be sure to read the full text of Dr. Green's article, "Was JFK the Victim of an Undiagnosed Disease Common to the Irish."