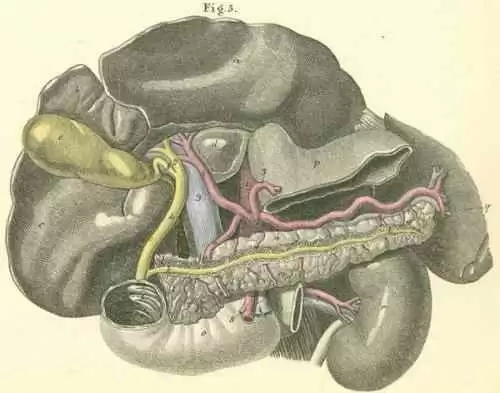 Caption: A new study looks at celiac disease and associated pancreatic disease. Photo: cc--Amber Kennedy
Celiac.com 01/05/2017 - Patients who have both pancreatic disease and celiac disease can experience adverse endocrine and exocrine changes. When this happens, severe clinical changes with marked nutritional alteration may result. For some patients, a gluten-free diet can help improve endocrine and exocrine pancreatic function.
Also, numerous studies show that people with celiac disease have higher rates of type 1 diabetes mellitus. In part, this relationship was possibly due to shared human leukocyte antigen alleles, DR3, and by linkage disequilibrium, DQ2. Besides this hypothesized common "immune-mediated" etiopathogenesis, some celiacs with pancreatic disease likely have developed secondary diabetic changes from severe exocrine pancreatic failure, driven in part by celiac-induced protein malnutrition.
---
Celiac.com Sponsor (A12):


---
---
Celiac.com Sponsor (A12-m):


---
Some researchers estimate that more than one in five celiac patients have defective pancreatic function, possibly due to impaired release of peptides, because of mucosal endocrine cell loss.

Researcher Hugh J. Freeman recently set out to evaluate the prevalence of type 1 diabetes in celiac disease. He is a gastroenterologist affiliated with the Department of Medicine, University of British Columbia, Vancouver, BC, Canada.

Prospective studies using an initial screening IgA tissue transglutaminase antibody assay (tTG) were done at the university center, while a total of 125 male and 108 female children and adolescents with type 1 diabetes mellitus were evaluated from an established pediatric diabetes clinic. Of these, 15 male and 11 female patients had elevated tTG titers, of whom 19 were also positive for endomysial antibodies. Among these cases, 1 was already known to have celiac disease. Small intestinal biopsies were done in the other 18 children positive for both antibodies.

In all, histopathological changes consistent with celiac disease were detected, ranging from increased numbers of intraepithelial lymphocytes to severe crypt hyperplastic villous atrophy (i.e., so-called Marsh 3 lesion). Studies also suggested that serial tTG titers in insulin-dependent diabetic children might play a useful clinical role in monitoring compliance to a gluten-free diet, possibly of value since close monitoring of compliance of children to a gluten-free diet may be exceedingly difficult.

In this study, over 40% of diabetic children were asymptomatic, and yet, prospective serological screening facilitated selection for small intestinal biopsy evaluation. Overall, 7.7% of this entire pediatric patient population had biopsy features common in celiac disease. A subsequent European study found 8.6% of diabetic children and adolescents to have tTG positivity; many had no symptoms, or only non-specific or mild gastrointestinal symptoms.

Prior studies have shown increased serum amylase levels in about 25% of patients, indicating possible low-grade pancreatic inflammation. Later studies examined exocrine pancreatic function in celiac disease by measuring fecal elastase-1 concentrations along with magnetic resonance imaging (MRI) showed pancreatic insufficiency in 4 of 90 celiacs, or 4.4% (1 mild, 3 severe), while MRI was normal in all 4 of these celiac patients.

In contrast, a study from India shows exocrine pancreatic insufficiency in 10 of 36 young adults under 30 years of age, based on fecal elastase determinations. Of these, over 80% showed reversal of elevated fecal elastase values on a gluten-free diet.

Most had moderate to severely abnormal small bowel biopsies (i.e., Marsh 2-3C) and only 1 had recurrent bouts of acute pancreatitis. Structural changes based on imaging studies were rarely encountered.

Although his own study, like a number of others, has documented the relationship between pancreatic exocrine function and celiac disease, Dr. Freeman calls for further longer-term study to determine if these observations can be verified by other centers.

Source: