Planet Celiac: Pasadena Celiac Convention May 2nd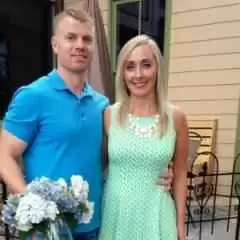 My lofty expectations for the Celiac Conference were met! It was AWESOME! People just like ME! Vendors cooking and catering to ME, and chucking copious samples my way. (I did have to spit some in the trash, but there were some very tasty morsels as well.) Doctors delivering diatribes about dx and diarrhea and DQ8 and disease and deflated villi and developments in process for protection against gluten. I enjoyed the clarification and question-and-answer sessions with those docs. A formal, sit-down lunch with salads, sauces, and souffles! Yeah, Bay-bay! Waiters serving up without instruction. Table conversations about lengthy journeys to diagnosis, wedding plans for gluten-free cakes, unsupportive spouses, and gluten-free food faves.
Foods I hadn't had before that were excellent are:



 



French Meadow Bakery cakes. I went back for more. The texture and flavors are next-to-normal, which is saying a lot.
Toro, the Norwegian brand that I've been dying to try but can't find in stores, was amazing. I had various flavors of breads that were outta this world. I'd been dying to try because they have gluten, but less than 20 parts per million, so it's safe for celiacs. Just enough gluten to make it springy and not crumbly.
I can't recall whether or not I've had Breads from Anna before but they are good.
Green's Belgium beer was good. I had Amber beer, which was a good flavor.
Three Senses Gourmet's chocolate souffle was great! Not like I remember the souffle in France, but pretty great by gluten-free standards.
Betty Crocker's brownies were great. Their mixes (brownie, ch.chip cookie, yellow cake and devil's food cake) will be in regular stores in June or so.
Kettle Cuisine's gluten-free soups. I had chicken noodle. It was good, but not spectacular. Kinda watery and not all that flavorful.
Companies I already adore, but had more products I hadn't tried b4:
Schar- the breadsticks were as tasty as the crackers I love.
Kinnikinnick- I like the animal crackers, I'm eating them now. Crunchy and sweet.
Celiac Specialties- I love all their baked goodies
Companies whose food I tried and disliked:
Almond Glory- strong almond flavors, nothing like regular food
Sweet Addictions Bakery wedding cake, yellow. Gross texture, dense and disgusting
Other people liked the chocolate one, but I didn't try that one
Garlic Jim's Pizza- It was fair. The crust was oily and squishy with tons of herbs. I've had better.
Arico Natural Foods Company gluten-free cookie bar-almond cranberry- dry, dry, dry. ucky blucky
Gluten Free & Fabulous Cookie Bites- Yuck. AFtertaste is weird (like when they put coconut and sweet rice flour where it doesn't belong)... I'm bringing the rest of the bag to my celiac group b/c one of them who've been gluten-free for lotsa years= appreciate anything gluten-free =will enjoy
gluten-free & Fab also gave a bag of Sweet Savory Bites- it says to spread hummus or cheese on them-haven't tried them yet, but kinda scared to.
Karmic-health- Gluten free snack mix- it is ok. cinnamony with gluten-free oats...nothing I'd purchase
Mary's Gone Snack Stick things- tastes like birdseed.
Companies I like and buy regularly, but didn't try anything new:
The Cravings Place- My favorite Pancakes (I add egg) and pretty good brownies
Pamela's- Hers all taste great, just sometimes they make me bloated...the price I pay
Amy's frozen meals
Nature's Path (I tried a new cereal, but I didn't like it. I'll stick with organic corn flakes)
Blue Diamond Nut Thins- not my fave, but they're ok
Glutino Pretzels
Mahatma rice
Gen. Mills Chex- I guess all the flavors are going gluten-free, but they just gave me a box of Rice Chex
Mrs. Leepers pastas-I'm cooking brown rice spaghetti right now
Celifibr Bouillon cubes