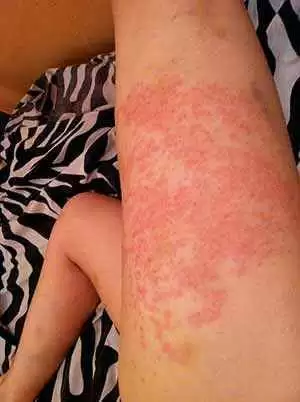 Caption: Photo: CC - Anosmia
Celiac.com 04/25/2012 - In my experience growing up with undiagnosed celiac disease, I had to deal with several symptoms that my doctors had no answers for. One of the most frustrating of these was my skin troubles—dermatitis herpetiformis. After my experiences with misdiagnoses, and finally more recently, learning how to effectively get rid of dermatitis herpetiformis, I encourage parents to be particularly watchful for signs of dermatitis herpetiformis in their children, and I have some useful advice for those—children and adults—who have already been diagnosed with this annoying and sometimes quite troublesome rash. Since dermatitis herpetiformis occurs in 15 to 20% of celiacs, it's worth any celiac's time to learn more about this condition.

By definition, dermatitis herpetiformis is a blistering and extremely itchy skin rash. It's usually symmetrical in shape and is most commonly located on the elbows, knees, buttocks, and upper back. It's common for people with dermatitis herpetiformis to have rashes appear in the same spot, and they can either be consistent or come and go. People can experience the rash on other parts of the body, and severity of symptoms can vary. Dermatitis herpetiformis is sometimes called the "gluten rash" or "celiac disease rash" because it occurs in people with a gluten intolerance or celiac disease. It is commonly misdiagnosed as eczema.
---
Celiac.com Sponsor (A12):


---
Gluten is a protein found in wheat, barley, and rye. In people who have celiac disease, gluten causes an autoimmune response which results in the immune system attacking the lining of the small intestine—specifically the villi, the absorptive hair-like structures of the lining. With dermatitis herpetiformis, outbreaks are also triggered by gluten.

Interestingly, unlike celiac disease which appears more in women than men, dermatitis herpetiformis is more commonly found in men by a ratio of about two-to-one. It is rarely seen in children under ten and first appears in the teenage years or even in one's twenties or thirties. It may come and go, even if you're eating a gluten-containing diet.

Diagnosis is done with a skin biopsy. In most cases, a dermatitis herpetiformis diagnosis means celiac disease as well, even if you're not obviously suffering from the characteristic intestinal symptoms of this disease. No matter what, the treatment is the same: a strict gluten-free diet.

Dermatitis herpetiformis rashes are treated in two main ways--the gluten-free diet, of course, and antibiotics such as dapsone or sulfapyridine for those who aren't able to tolerate dapsone. A truly gluten-free diet can eliminate dermatitis herpetiformis, but in my experience and according to the National Institutes of Health, a dermatitis herpetiformis rash responds dramatically to dapsone, within 48 to 72 hours. To treat the underlying cause of dermatitis herpetiformis, which is celiac disease, a strict gluten-free diet must be followed, but according to the National Institutes of Health, "Even with a gluten-free diet, dapsone or sulfapyridine therapy may need to be continued for 1–2 years to prevent further dermatitis herpetiformis outbreaks."

As a celiac with dermatitis herpetiformis, completely eliminating gluten from my diet has been the only lasting solution for dermatitis herpetiformis, but unfortunately I can accidentally ingest gluten from time to time, especially when I travel. In my most recent outbreak, I decided to get a prescription for dapsone. Although dapsone is a very strong drug with side effects and should be used sparingly, I was in need of something fast-acting. I followed the instructions exactly, and not only did it relieve the pain but within three days, I could see a remarkable change in the appearance of the dermatitis herpetiformis. After reexperiencing the painful and frustrating symptoms of dermatitis herpetiformis and the relief that came with proper treatment, I knew I had to address this topic to help others. I encourage everyone to get the word out about dermatitis herpetiformis so more and more people dealing with this misdiagnosed condition can get help just as I did.

Resources: