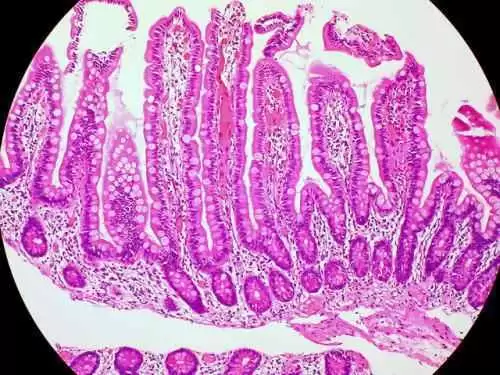 Caption: Normal villi. Image: CC--Ed Uthman
Celiac.com 08/05/2017 - I was told that I had irritable bowel disease about thirty years before being diagnosed with celiac disease. I avoided hard to digest foods such as corn, broccoli, beef and other foods difficult to digest, and instead I would, for instance, eat the bun of a hamburger, avoid steaks but eat the buttered buns and the gravy with a main meal and wondered why I was still having the gut and bowel reactions!
Did you know that even in the absence of fully developed celiac disease, gluten can induce symptoms similar to FBD (Functional Bowel Disorder)? Doctors such as Elena F. Verdu, David Armstrong and Joseph Murray describe celiac disease and irritable bowel syndrome (IBS) as the "no man's land of gluten sensitivity."
---
Celiac.com Sponsor (A12):


---
---
Celiac.com Sponsor (A12-m):


---
Celiac disease is a condition traditionally characterized by chronic inflammation of the proximal small intestine resulting in villus atrophy and malabsorption. Irritable bowel disease is a clinical syndrome defined in the most recent Rome III consensus by the presence of abdominal pain or discomfort, at least three days per month in the last three months, and two or more other symptom features: 1) Improvement in defecation, 2) Association with a change in stool frequency, and 3) Association with a change in stool form or appearance. Other GI symptoms, such as bloating and distension are also considered to be consistent with a diagnosis of FBD (Functional Bowel Disorder) such as IBS.

Did you know IBS has a prevalence of about 10% and is the most common GI disorder in our society, imposing a very high economic burden in North America? Did you know that there is an overlap between IBS and celiac disease? It has been reported that testing for celiac disease in patients with diarrhea-predominant IBS is cost effective if the prevalence of celiac disease is above 1%. Not only do the symptoms of IBS and celiac disease overlap, but epidemiological studies also suggest a greater than by chance association (4 - 5 fold increased risk).

By convention, a patient with confirmed celiac disease is no longer considered to have IBS. It has never been determined whether celiac disease and IBS cannot co-exist, and there is no reason to think that a diagnosis of celiac disease necessarily precludes a diagnosis of IBS. Dr. Fasano has concluded that about 3% of patients with a "clinical" presentation of IBS were subsequently diagnosed with celiac disease. I would wager that many of you with confirmed celiac disease may also have the symptoms of irritable bowel disease. I cannot be alone in this! I can check off the symptoms of IBS on many occasions and yet I have diagnosed celiac disease and dermatitis herpetiformis. In Dr. Fasano's report: "they have concluded that gluten induced Patho-physiology may constitute an underlying factor in symptom generation in a proportion of patients with IBS like symptoms." A lot of this wording may seem like Greek or a "little over ones head" so to speak, but I believe what they are saying is though we define gluten sensitivity as a condition of some morphological, immunological, or functional disorder that responds to gluten exclusion and NOT a true disease. Gluten sensitivity changes that occur with IBS because of exposure to gluten are eventually going to show up positive for celiac disease.

Why would a person who has been diagnosed and KNOWS that they have irritable bowel disease continue to ingest gluten when Fasano et. al., have concluded that about 3% of patients with a "clinical" presentation of IBS were subsequently diagnosed with celiac disease?

Did you know that in July of 2016 teams of researchers at Columbia University published a study confirming that wheat exposure response is, in fact triggering a systemic immune reaction and accompanying intestinal cell damage. "It is estimated that the impacted population is equal to or even exceeds the number of individuals with celiac disease, the vast majority of whom remain undiagnosed" Dr. Armin Alaedin confirmed. Finally they are reporting that a person with irritable bowel disease may have gotten that way from ingesting gluten.
Celiac Disease and Dermatitis Herpetiformis – Did You Know?
15 - 25% of individuals with celiac disease experience dermatitis herpetiformis?
Dermatitis herpetiformis is a skin manifestation of celiac disease and is part of the abnormal immune response to gluten;
Affects more men than women?
Dermatitis herpetiformis generally starts in adulthood. It is not common to see dermatitis herpetiformis in children, but it can occur;
Only about 20 percent of people with dermatitis herpetiformis have intestinal symptoms of celiac disease, however, biopsies show that 80 percent have some degree of damage to the small intestine, especially if a high gluten diet is maintained;
If you suspect dermatitis herpetiformis you may have celiac disease;
Iodine is something that a person with dermatitis herpetiformis should definitely avoid;
One of the oldest checks for dermatitis herpetiformis was putting some iodine on ones thigh;
Dermatitis herpetiformis sores tend to run in a line, or stay in a cluster;
Dermatitis herpetiformis treatment consists of a gluten-free diet for life, just like in celiac disease?
The skin's response to the gluten-free diet is much slower compared to the healing of the intestines in those with celiac disease. It may take about six months to achieve improvement, though with my own dermatitis herpetiformis spots daily dapsone was miraculous. It did take up to a year for the sores in my scalp to heal.
Dr. John Zone, M.D. Professor and Dermatology Chair at the University of Utah and CDF Medical Advisory Board member states "There is little question that ingestion of large amounts of iodine dramatically worsens dermatitis herpetiformis," he continues, "iodine does not cause dermatitis herpetiformis. It worsens dermatitis herpetiformis. Gluten causes dermatitis herpetiformis." Dr. Zone explains that through seeing hundreds of celiac disease patients over the years, he has found that some react to highly concentrated solutions of iodine in cough medicines, shellfish, and kelp, which is often found in Sushi. He also cautions that dietary supplements may contain large amounts of kelp or iodine (usually in the form of potassium iodide or sodium iodide) which can worsen dermatitis herpetiformis.
I can share with you that I was incorrectly told over 25 years ago by an internist that I could take up to five dapsone, going 5- 4 - 3- 2 -1, and if the spots had not totally disappeared I could repeat the process. Taking too much cased a blood disorder called Methemaglobinemia, a rare but dangerous response to taking too much dapsone. It is a blood disorder in which an abnormal amount of methemoglobin is produced. Hemoglobin is the protein in red blood cells (RBCH's) that carries and distributes oxygen to the body. Methemoglobin is a form of hemoglobin, with it the hemoglobin can carry oxygen, but is not able to release it effectively to body tissues. It can either be passed down through families (inherited or congenital) or be caused by exposure to certain drugs, chemicals, or foods (acquired).
My nephew was on dapsone, which is, according to the Head of Dermatology at the University of British Columbia, the true test of dermatitis herpetiformis. By taking Dapsone for three or four days the lesions (itchy/sore blisters that beg to be itched, and when you do you break open a lesion that appears to contain liquid...they burn, then they crust, and if you continue to pick off that crust they scar your skin.) almost disappear like magic.
My nephew thought it was permissible to cheat once in a while and thought that he could get away with it. He used to eat hamburgers every time the craving for a "Big Mac" overcame him! He ate one, or maybe two, until he found out he had dermatitis herpetiformis sores on the soles of his feet and was limping from the pain. Who knows what damage he was doing to the villi in his bowel!
It is a vast no man's land out there, but if you are a celiac and have dermatitis herpetiformis or are gluten sensitive you need to step into that "land" and learn more about the diseases and what is going on in your body!